Most useful customer reviews
18 November 2009
Quite Simply a God Send!
Really didn't expect to like this so much. Bought it based on a recent newsletter... seemed like an interesting product. Package arrived next day (got a text message telling me it shipped too!). Comes in a simple box, once I got it out it seemed to be of reasonable quality. After a few hours use I love it! - Holds my T-Mobile G1 perfectly in landscape and portrait mode. Perfect viewing angle for the screen. The card reader and USB work fine, but don't really need to use this that often. Even when it's not plugged in to the computer would recommend this simple as a great phone holder for any office or home. Most of my colleagues are ordering one too! Only thing is after a few days it seems to get less "sticky" (one star knocked off for that)
8 December 2017
Higjly Recommend this Product
Not only looks fantastic sitting on my desk with it's blue glow but goes way beyond a tidy up of those messy charger cables. Makes charging easy and recieving calls simply by picking up the phone without unplugging a charge cable.
8 November 2017
Perfect For Charging
This is absolutely perfect!
470 Reviews
|
Write a review
---
Additional information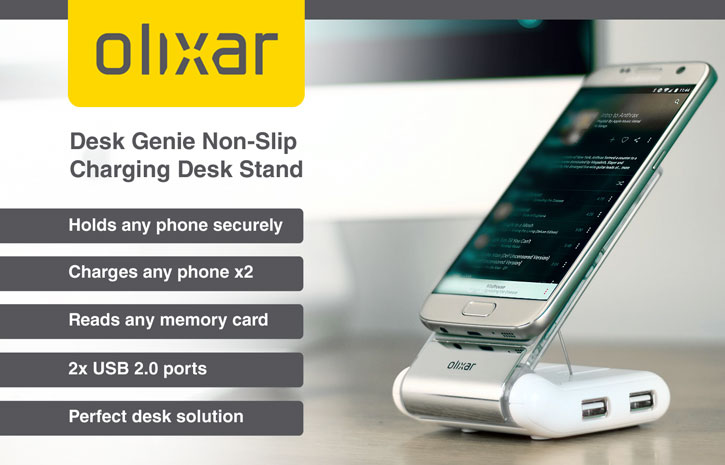 The Desk Genie is the only phone holder you will ever need.
The Desk Genie gives you a phone holder, universal charger, USB hub and an 8-in-1 card read.
Desk Genie non-slip
Designed to hold any device in position, it uses a special material which grips the device. It is even designed so if your phone is vibrating frantically, it will still remain in place. The holder is able to do such a feat thanks to the special surface, which is made from a high tech rubber material. Your phone is held so firmly you'll think it has been glued down – but there is no sticky residue on the phone or on the Genie. The Desk Genie can hold your phone in optimum viewing positions to read emails, watch videos and play games.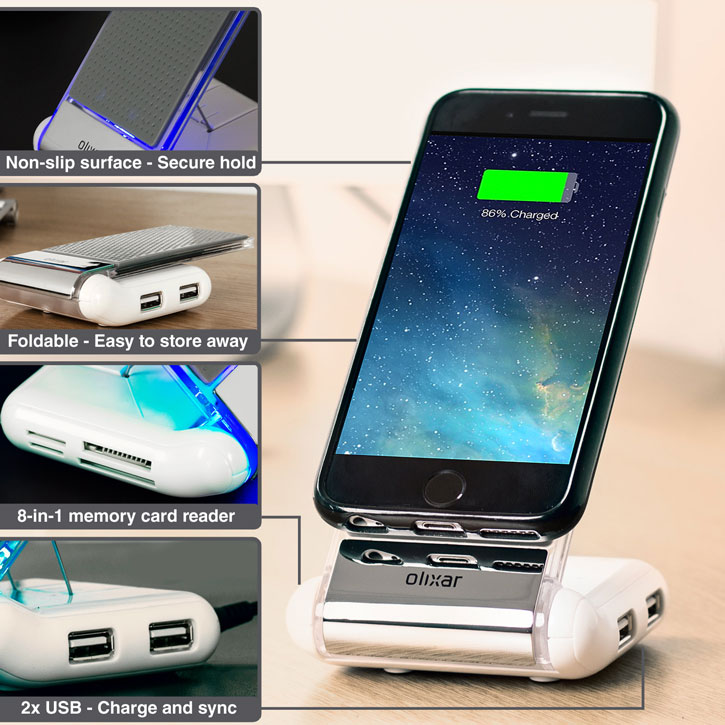 Long lasting
As dust slowly builds up over time, the adhesive properties reduce. Simply wipe the pad with a little water and then with a clean cloth (be sure not to use solvents or alcohol wipes). This will restore the Desk Genie's magic holding properties.
The Desk Genie is made from high quality materials and finished to the highest levels. This means it will not look out of place at home or in the office, while it holds your precious devices.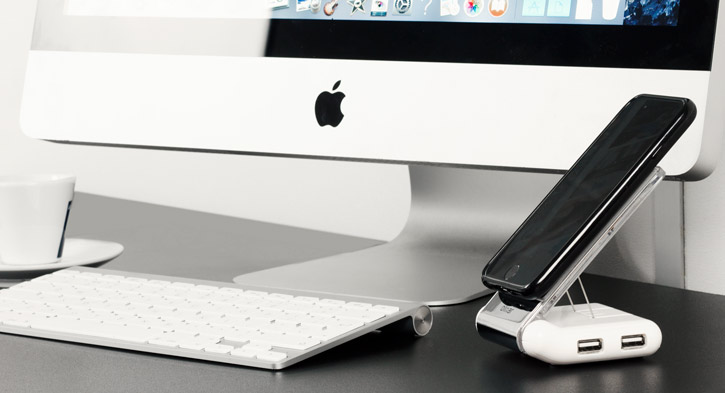 Charger
The Desk Genie also allows you to charge your phone. One of the added benefits is the multiple tips it comes with, so you can literally charge any phone while the phone sits on the Desk Genie. The cable simply plugs into the back of the Desk Genie and the other end goes straight into the phone. The tips included also work on iPods and selected sat navs and MP3 players. If one of the included tips doesn't support your phone, no need to worry as you can use your existing USB charging cable with the Desk Genie to charge your device.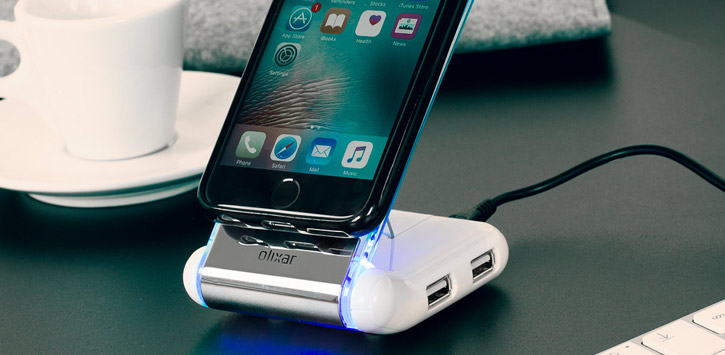 Note: The multiple tip cable will only charge your device. It cannot be used to sync.
USB port
The Desk Genie features 2 USB ports along the bottom. You can use the USB as a hub for your PC or laptop computer, which means you can slot memory sticks and Bluetooth dongles in to transfer all your files on to your computer. The Genie is perfect if your PC or laptop does not have many USB ports. The USB ports can be used to charge items including Bluetooth headsets, sat navs, MP3 players - as well as letting you have fun with your favourite USB gadgets.
When used with a charge and sync cable, the USB hub can also be used to sync with your phone or music device.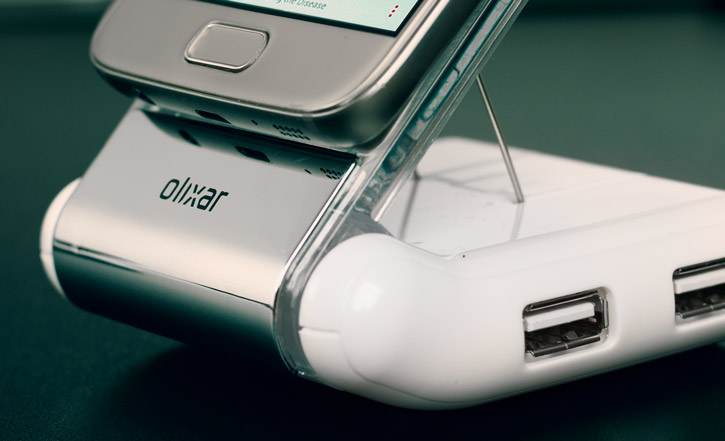 Note: Charge and sync cable is not included.
Card reader
The Desk Genie not only holds your mobile phone firmly in place, it also contains 4 memory card slots - which allow you to transfer files at high speed between the card reader and your PC. Just connect to any PC, insert a memory card and away you go. Not only is the device compatible with Micro SD cards, but it will work with 8 other memory cards including SD and M2 cards. The card reader unlike others on the market will allow you to use both Micro SD and M2 cards without adaptors.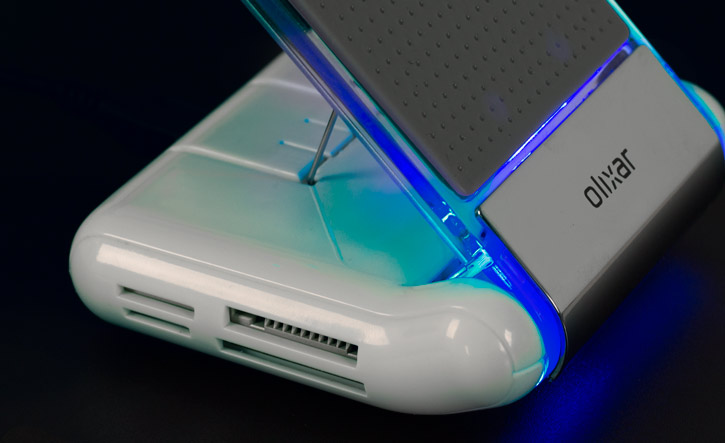 Works anywhere
The Desk Genie will still hold your phone plugged in or not. The USB cable is 90cm long and is designed to be used next to a PC / laptop (or simply purchase a USB extension cable), however if you want to use it on your bedside table, kitchen or anywhere else where a PC is not close by and you still want to charge your phones - simply purchase a USB Mains Adaptor.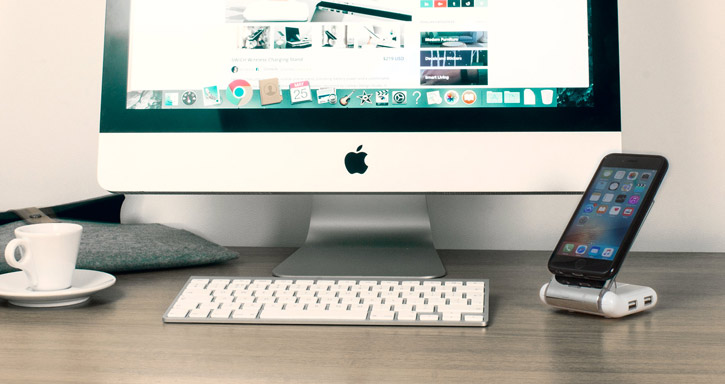 Features:
Designed with a non-slip material
Holds your mobile phone or accessories firmly
Fully compliant with USB 2.0 specification
Backwards compatible with USB 1.1
Plug and play
Supports Windows 2000/XP/ Vista, Mac OS X and Linux
Dimensions: 59 x 102 x 106mm (approx)
Weight: 95g
Connectors:
iPhone/iPod
Nokia 2mm (works with 5800, N95, 6700 and more)
Nokia 3.5mm (works with 3310, 6680, 6230 and more)
Micro USB (for Nokia N97/BlackBerry 8900/Samsung Omnia II and more)
Mini USB (for BlackBerry 8300 /HTC Hero/MP3)
LG (works with older LG phones)
Samsung Tip1 (works with D900, U600, D800 and more)
Samsung Tip2 (works with Omnia, Pixon, Tocco Lite and more)
Sony Ericsson Fast Port (works with all Sony Ericsson phones)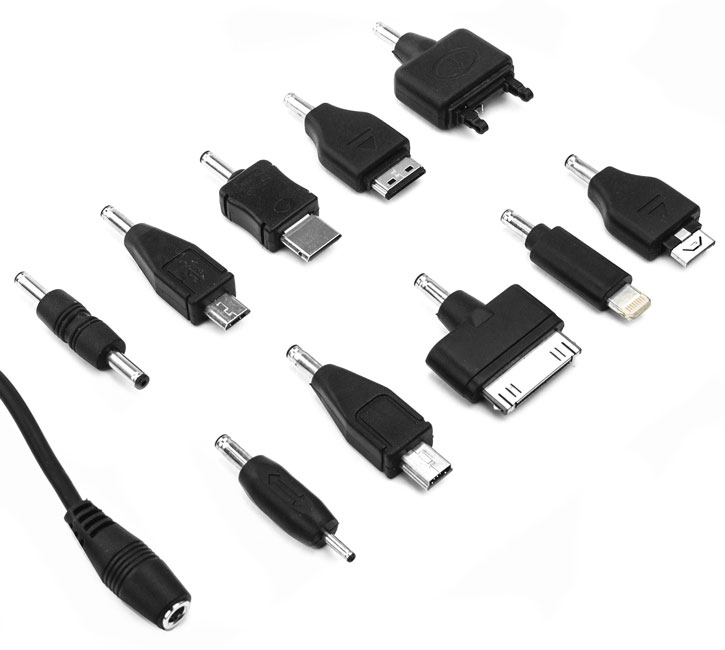 What's in the box:
1 x Non-slip Holder 2 USB Ports
1 x 90cm Mini USB Cable
1 x Charger Output Cable
9 x Mobile Phone Connectors
1 x User Manual