Official Samsung Galaxy S3 Extended Battery Kit - 3000mAh - White

Product part number: EB-K1G6UWUGSTD
Product reference: 37555
Keep your Samsung Galaxy S3 going for longer with this official kit comprising of a 3000mAh extended battery with NFC and replacement back cover in white.
"Galaxy SIII Extendable Batterie"
"just what i looking for"
"Amazing Battery Life. A must have"
Most useful customer reviews
23 May 2014
Galaxy SIII Extendable Batterie
Not to offten one gets product as addvertised but this is an exception. 3000 mah batteries are egsactly what seller is claiming to be and well worth it for power hungry android. Can't understand doe, why is Samsung not including this quality batteries at the time of original purchase of galaxy range mobile phones. My wifes phone is in it's third week of stand by, surprize, surprize and batteries are stil at 37% charge. With moderate use my phone is in second week and I stil have 29% charge left. Back cover is well made and has original Samsung logo inbeaded on it and fits to the phone perfectly. Increased thicknes of the phone is no bother at all.
Tommy
Vancouver Canada
samsung s3
28 August 2013
just what i looking for
the delivery are super fast.
Keith
London
Samsung Galaxy S3
23 April 2013
Amazing Battery Life. A must have
This battery has given my phone a battery life of over 12 hours while streaming music and using the GPS. If you own a S3 you should own one of these. Best benefit is that it only adds about 3mm onto the width of the phone.
31 Reviews
|
Write a review
---
Additional information

3000mAh replacement battery adds 900 mAh to your battery life
This battery has a capacity of 3000mAh, which is an additional 900mAh compared to the original 2100mAh Samsung battery. This helps to provide more battery power in order for you to have more talk time or power to play games and videos for longer.
Replacement back cover houses the extended battery and protects against damage
As this battery is bigger in capacity than the standard one, it is also bigger in size. To accommodate this, the battery comes with a specially built replacement back cover that houses the battery, while also offering additional protection to the back of your phone from scratches and scrapes.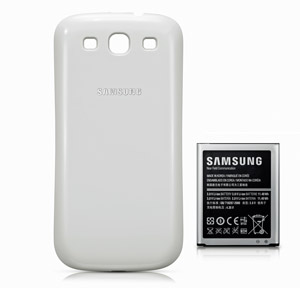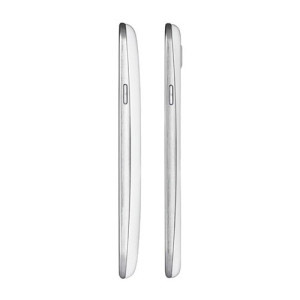 Features a built-in NFC chip for full phone functionality
The Genuine Samsung Extended Battery Kit for Galaxy S3 features a built in NFC (Near Field Communication) chip which allows your S3 full capabilities to use NFC technology on items such as Samsung TecTiles.
Official Samsung product made for the Galaxy S3
As this battery is an official product made specifically for the Samsung Galaxy S3, it fits perfectly within your phone and is compatible with it. In addition, the replacement back cover offers an excellent fit for your device and features a cut-out for the camera, so you don't lose any functionality by using this battery.