Most useful customer reviews
N Hollome
Gosport
Samsung 625
26 September 2014
Klingon
My clam shell mobile holders were u/s when I updated to a better mobile. I wanted something that was not adhered to the windscreen of my car. Tree frog was the answer,there is a plus side to having this now. My daughter created a name for me when she was very angry, I had refused a request. For the want to call me something. Spiting mad, called me, 'You toad', I can tease her all over again. Great.
Frances Williams
Margate, Kent.
25 August 2014
Tree frog.....brilliant.
It even holds my phone when it is in it's leather wallet. A must for any driver. I wish I had bought one ages ago. This will be the Christmas gift I give all my family this year.
Annemarie
Herts, UK
Moto G16, smart phone inside a leather folding case
17 August 2014
Excactly what I wanted
Dubious at first, despite some very good reviews. However, so far - it works great, does exactly what it says it should do. I just place my phone on it, that's nearly vertical, and it stays - driving on bumpy roads..etc.. my phone stays on the thing..also I got my phone in a leather case, folded back on it..and the whole thing stays where I put it. GREAT, Amazing!
222 Reviews
|
Write a review
---
Why buy
Hold mobile phones and other items 'slip-free' on your car dashboard
Adhesive-free design leaves no sticky residue
Flexible pad fits to the contours of your dashboard
Even holds items at extreme angles
Washable design maintains the effectiveness of the pad
---
Additional information
Secure mobile phones and other items 'slip-free' to your car dashboard
The Tree Frog Dashboard Pad is made from a special silicone material, securely holding items to the car dashboard without them slipping off.
This could include your mobile phone, keys, sunglasses and much more besides.
The pad can be repositioned as many times as necessary, and will even fit to the contours of your dashboard.


Fits to the contours of the car dashboard
The flexible gel-like pad will easily fit to the contours of curved dashboards, providing a firm grip when placing even large devices including the impressively grand proportions of the Galaxy Note 4 - even at acute angles!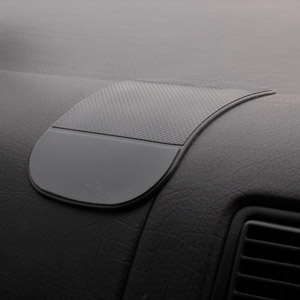 No sticky residue!
The Tree Frog is manufactured from a special silicone, which won't leave any sticky residue to either your car dashboard or more importantly - the objects you place upon it!
Washable design
Over time, dust and dirt from your car may affect the adhesive properties of the Tree Frog pad. Simply wash the grip and once dry, it will perform as brilliantly as the day you first purchased it.
There are no reviews for your native language. Please select an alternative filter above.
Average rating 4,4 given by 222 customers | Write a review