Most useful customer reviews
Barry Emmott
Harrow
Tree Frog anti-slip pad
5 May 2015
Tree Frog
This ant-slip device does exactly what it says - you can put it down almost anywhere and it stays put plus anything (within reason" which you put on the pad, such as your smartphone, stays put.
Rikki Donachie
Ayelsbury
HTC One M8
5 May 2015
Something that actually works!
I use a satnav app on my phone and also like to listen to music stored on my phone. Every other phone/satnav holder I have tried either feel off or couldn't actually be fitted. This Treefrog sticky mat is perfect. I don't even need to take the phone out of its case.
Gus Stewart
Fife, Scotland
Tree Frog
24 April 2015
Tree Frog
I am delighted with this product. It does exactly what it says it does and is so easy to move, depending on whether I just want it hold my phone or reposition it to use my phone as my sat.nav. I have recommended it to my friends and 2 of them have ordered it already
256 Reviews
|
Write a review
---
Additional information
Secure mobile phones and other items 'slip-free' to your car dashboard
The Tree Frog Dashboard Pad is made from a special silicone material, securely holding items to the car dashboard without them slipping off.
This could include your mobile phone, keys, sunglasses and much more besides.
The pad can be repositioned as many times as necessary, and will even fit to the contours of your dashboard.


Fits to the contours of the car dashboard
The flexible gel-like pad will easily fit to the contours of curved dashboards, providing a firm grip when placing even large devices including the impressively grand proportions of the Galaxy Note 4 - even at acute angles!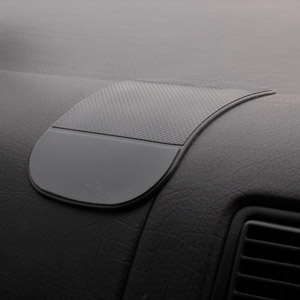 No sticky residue!
The Tree Frog is manufactured from a special silicone, which won't leave any sticky residue to either your car dashboard or more importantly - the objects you place upon it!
Washable design
Over time, dust and dirt from your car may affect the adhesive properties of the Tree Frog pad. Simply wash the grip and once dry, it will perform as brilliantly as the day you first purchased it.