Most useful customer reviews
Irene Ashpole
Ruislip
I Phone 6
13 October 2015
Excellent
Great product the mat sticks anywhere. Recommended it
Nick Andrews
Wiltshire
NOKIA 735
12 October 2015
It's all true
Yep this most simple of ideas works a treat. It feels sticky but doesn't make your fingers sticky. So sticky that you have to peel the device off of it to stop the Tree Frog coming away with the phone. And it is picking up dust but after a week it is still fine.
Chris Lowes
Westcliff
Samsung Galaxy J5
19 September 2015
Sticks like a very sticky thing
This is a brilliant idea, I have cut it down slightly to fit in a suitable place on my dash and it holds my phone perfectly. Because my car is not the most valeted vehicle around, by the time I had tried various places the pad was covered in dust and losing it's stickiness. A quick rinse in some hot soapy water and by the time I got back out to the car it was dry and stuck like a good 'un. This little marvel leaves no residue on the dash or my phone. I highly recommend this.
275 Reviews
|
Write a review
---
Additional information
Secure mobile phones and other items 'slip-free' to your car dashboard
The Tree Frog Dashboard Pad is made from a special silicone material, securely holding items to the car dashboard without them slipping off.
This could include your mobile phone, keys, sunglasses and much more besides.
The pad can be repositioned as many times as necessary, and will even fit to the contours of your dashboard.


Fits to the contours of the car dashboard
The flexible gel-like pad will easily fit to the contours of curved dashboards, providing a firm grip when placing even large devices including the impressively grand proportions of the Galaxy Note 4 - even at acute angles!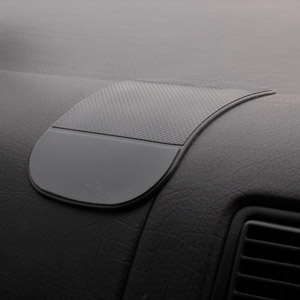 No sticky residue!
The Tree Frog is manufactured from a special silicone, which won't leave any sticky residue to either your car dashboard or more importantly - the objects you place upon it!
Washable design
Over time, dust and dirt from your car may affect the adhesive properties of the Tree Frog pad. Simply wash the grip and once dry, it will perform as brilliantly as the day you first purchased it.