Most useful customer reviews
Looby from Lismore
Northern Rivers, NSW
3 December 2015
FANTASTIC
Adheres extremely well to the moulding of the dashboard, even with the sun coming through the windscreen. Holds keys, map, mobile phone and handkerchief - not all at once, though - without any issue. Hubby can even find his reading glasses with ease. We love it, hence we purchased more for our neighbours. When wiping the dashboard during interior cleaning, just wipe over the Dashboard Pad for continued efficiency.
28 November 2015
Great!
Great little sticky pad to put my phone on in the car. It's collecting a little dash debris/dust but washes off easily. Super easy to order and pay for. Quick delivery and within the time frame promised. Will definitely be my first choice for future products.
Irene Ashpole
Ruislip
I Phone 6
13 October 2015
Excellent
Great product the mat sticks anywhere. Recommended it
280 Reviews
|
Write a review
---
Additional information
Secure mobile phones and other items 'slip-free' to your car dashboard
The Tree Frog Dashboard Pad is made from a special silicone material, securely holding items to the car dashboard without them slipping off, including your mobile phone, keys, sunglasses and much more besides.
The pad can be repositioned as many times as necessary and will even fit to the contours of your dashboard.


Fits to the contours of the car dashboard
The flexible gel-like pad will easily fit to the contours of curved dashboards, providing a firm grip when placing even large devices including the impressively grand proportions of the iPhone 6S Plus or Lumia 950 XL - even at acute angles!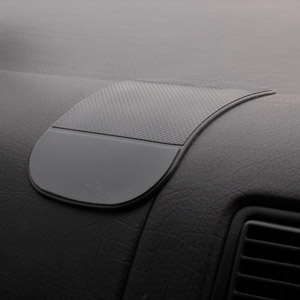 No sticky residue!
The Tree Frog is manufactured from a special silicone, which won't leave any sticky residue to either your car dashboard or more importantly - the objects you place upon it!
Washable design
Over time, dust and dirt from your car may affect the adhesive properties of the Tree Frog pad. Simply wash the grip and once dry, it will perform as brilliantly as the day you first purchased it.