Most useful customer reviews
26 February 2015
anti slip mat for mobile phone.
Purchased anti slip mat for mobile phone. The mat will self stick to any surface in your car,and once placed your mobile phone will self adhere to the exposed side of the anti slip mat. You do not need a car cradle.....excellent product.
Mehejabin Abdul Habib
Leicester
iPhone 6
21 February 2015
Tree Frog Anti-Slip Dashboard Pad
Excelent product. Thank You
10 November 2014
Tree Frog Anti-Slip Pad
What a wonderful tool to have in the car it holds my mobile firm in place no movement at all.
245 Reviews
|
Write a review
---
Why buy
Hold mobile phones and other items 'slip-free' on your car dashboard
Adhesive-free design leaves no sticky residue
Flexible pad fits to the contours of your dashboard
Even holds items at extreme angles
Washable design maintains the effectiveness of the pad
---
Additional information
Secure mobile phones and other items 'slip-free' to your car dashboard
The Tree Frog Dashboard Pad is made from a special silicone material, securely holding items to the car dashboard without them slipping off.
This could include your mobile phone, keys, sunglasses and much more besides.
The pad can be repositioned as many times as necessary, and will even fit to the contours of your dashboard.


Fits to the contours of the car dashboard
The flexible gel-like pad will easily fit to the contours of curved dashboards, providing a firm grip when placing even large devices including the impressively grand proportions of the Galaxy Note 4 - even at acute angles!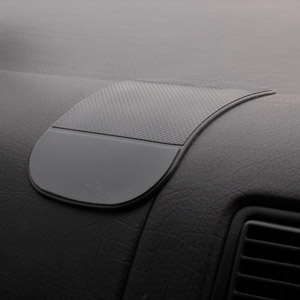 No sticky residue!
The Tree Frog is manufactured from a special silicone, which won't leave any sticky residue to either your car dashboard or more importantly - the objects you place upon it!
Washable design
Over time, dust and dirt from your car may affect the adhesive properties of the Tree Frog pad. Simply wash the grip and once dry, it will perform as brilliantly as the day you first purchased it.
There are no reviews for your native language. Please select an alternative filter above.
Average rating 4,5 given by 245 customers | Write a review