Most useful customer reviews
Michael Smith
Skelmersdale
Tree Frog Anti-Slip Pad
22 June 2015
Keeping things safe
So pleased with the first one I had to get one for the wife's phone.
Audrey Young
Ipswich
Tree frog mobile holder pad
4 June 2015
Neat little idea. Saves cumbersome holders. Grips mobile firmly.
I read the reviews and was pleased with the comments so I bought mobile tree frog pad and am delighted with it.
Barry Emmott
Harrow
Tree Frog anti-slip pad
5 May 2015
Tree Frog
This ant-slip device does exactly what it says - you can put it down almost anywhere and it stays put plus anything (within reason" which you put on the pad, such as your smartphone, stays put.
258 Reviews
|
Write a review
---
Additional information
Secure mobile phones and other items 'slip-free' to your car dashboard
The Tree Frog Dashboard Pad is made from a special silicone material, securely holding items to the car dashboard without them slipping off.
This could include your mobile phone, keys, sunglasses and much more besides.
The pad can be repositioned as many times as necessary, and will even fit to the contours of your dashboard.


Fits to the contours of the car dashboard
The flexible gel-like pad will easily fit to the contours of curved dashboards, providing a firm grip when placing even large devices including the impressively grand proportions of the Galaxy Note 4 - even at acute angles!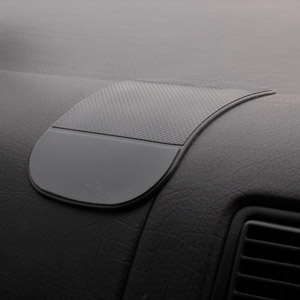 No sticky residue!
The Tree Frog is manufactured from a special silicone, which won't leave any sticky residue to either your car dashboard or more importantly - the objects you place upon it!
Washable design
Over time, dust and dirt from your car may affect the adhesive properties of the Tree Frog pad. Simply wash the grip and once dry, it will perform as brilliantly as the day you first purchased it.