Most useful customer reviews
29 October 2014
Sturdie Support
xProDock fits and setup just as i wanted, Very supportive of my phone with limited and if any bounce making the screen good to read when driving, Added handsfree software was a bonus and very good to setup and use, Well worth the purchase
Robert
Reading
HTC One M8 and Case-Mate Tough Case
15 August 2014
Quality product
I was using a Kidigi cradle with my HTC One X. I recently upgraded to a M8. I originally ordered another Kidigi cradle but that did not allow use of the Tough Case or Seido Surface. The iBolt allows me to use either case. It holds the phone very firmly and auto launches car mode. It also doesn't obstruct the camera so you can use Torque OBD and the video recorder add-on.
28 April 2014
Good product
Bought this item primarily to charge the phone in the car. Set up and using it within a couple of minutes - hardest part was opening the box! Good suction on the windscreen, and feels secure when holding the phone - much better than letting it rattle around in the centre console! An now using it every time I/m in the car, and would recommend it.
11 Reviews
|
Write a review
---
Additional information
Hold your HTC phone safely and legally in your car
The iBOLT xProDock allows you to listen to music and charge your HTC smartphone whilst it's in your car. The dock comes with an active charging cradle which is designed to hold your phone at a position which you find comfortable, allowing you to still view your screen without distracting you from the road ahead.

Keeps your HTC handset charged during your journey
The iBolt xProDock includes an active Micro USB connection on the cradle itself. When used with the included charging cable and your existing USB car charger adapter it ensures that your smartphone is fully charged during your journey without creating a mess of wires.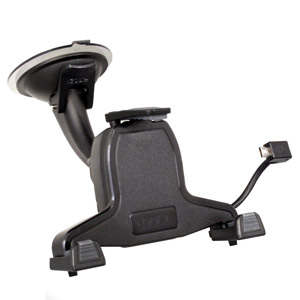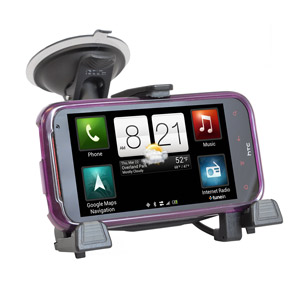 Adjustable holder is compatible with all HTC handsets
The vehicle dock also includes spring loaded adjustable grips which gently squeeze to the right width of the smartphone. The holder can accommodate all HTC handsets including the Galaxy Note 2 and is ideally suited for use with cases fitted including robust case types such as Ballistic cases and Otterbox Commuter/ Defender series.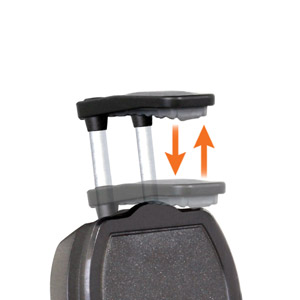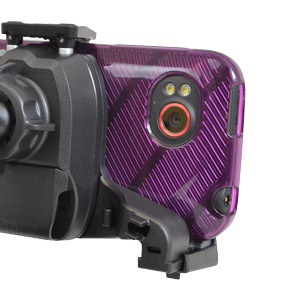 Suitable for landscape and portrait use
Ideal for all round use in your car, the iBolt xProDock's ball and socket fixing can be positioned securely in landscape or portrait orientations for GPS and other uses.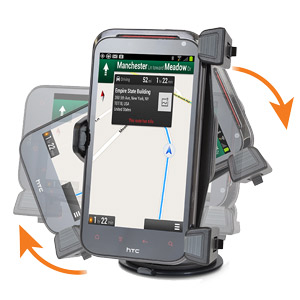 Works in conjunction with the iBolt Dock'n Drive app
The iBolt xProDock Active Vehicle Dock works in conjunction with iBolt's Dock'n Drive app. The "Dock'n Drive" application will change the way Android Smartphones are used while driving. 30 tiles can be set as short-cuts to frequently used apps, favorite contacts etc. In full screen mode a gorgeous digital speedometer, an innovative "compass ring", media play buttons optimized for Pandora, Spotify, TuneIn, Slacker etc. are seen.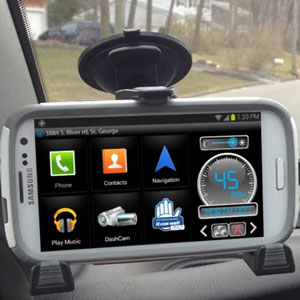 Supports HTC Dock mode when charging
When the Micro USB charging cable of the dock is connected to your HTC handset it automatically enables 'Dock' mode which shows a simplified home screen with easy access to GPS navigation, music player, voice commands as well as clearly displaying the date and time.
Can be positioned on your dashboard
The xProDock vehicle dock comes with an adhesive plate which fixes on to your dashboard allowing you to use the car holder either on your windscreen or on your dashboard which makes it perfect if you're using your phone as your Sat Nav whilst driving.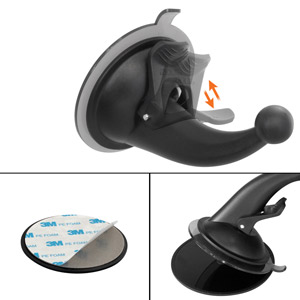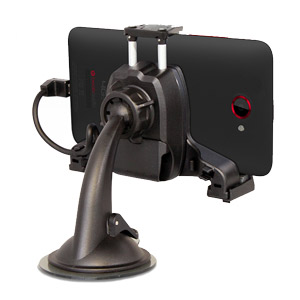 Includes a secure windscreen mount mechanism
At the base of the vehicle dock a secure suction cap mechanism will keep the phone fixed to the windscreen with no problems, ensuring the phone will not fall out when going around corners. Please note even though this item includes a USB lead it doesn't include a USB 12V Adaptor, these can be purchased here.
Allows for additional mounting options
The female ball connector of the xPro Dock is an industry standard 17 mm size, allowing any dash, vent or bike mounting solution designed for Garmin to work with the iBOLT Dock as an alternative to the included suction mount. An AMPS plate adapter can be ordered for anyone preferring a mounting solution from companies like KUDA, ProClip etc.