Most useful customer reviews
David Thomas
Glasgow
CableJive dockBoss Air Apple Dock Wireless Music Receiver Product Reference: 40053
22 April 2017
Technology promise that pays off: CableJive dockBoss
I was purchasing a new IPod Touch as my old one was losing its set up. I'd read of problems with the Bose Soundeck using the Apple Adaptor to cope with the change from 30pin. I visited the BOSE shop in Ingram St & they assured me all was well with a genuine Apple product but as my new device has Bluetooth connectivity I might explore such a device. I found the DockBoss wasn't much more than the Apple adaptor and reviews seemed favourable. I ordered two (one for a pal with new IPhone) and it could not be easier to use and no loss of quality on the sound. Heartily recommend this to you. Brilliant bit of kit that delivers.
9 February 2017
Very pleased
I ordered the Bose wireless receiver online That was easy It took 3 weeks to arrive from the UK - I was wondering if it had got lost but it arrived as indicated when I placed the order The piece itself is quite small and fits neatly and easily into the Bose Sound Dock Readily connects by blue tooth to an IPhone and then streams the music through the Bose Quality is about the same as playing Ipod through it Overall - very satisfied as I can now use Sound Dock for both Ipod and nowI Phone
26 January 2017
Just the job!!
The speaker system in my kitchen has sat unused and forlorn for some months since I upgraded my iPhone to one without a 30 pin connector :( I tried an adapter but it didn't work due to the case I had on the phone. So; I was very excited to come across this solution. And its a beauty! Usual super-prompt delivery too. SECONDS to install and pair and off you go. The sound is fabulous and my kitchen is now back to being noisy every night :)
33 Reviews
|
Write a review
---
Additional information
Wirelessly stream music from your Apple dock
The CableJive dockBoss Air easily plugs into the 30 pin connection of most Apple docks to allow wireless music streaming with your Bluetooth enabled wireless device. Alternatively it can be connected to 30 pin car music systems to allow wireless streaming of music with Apple and Android devices.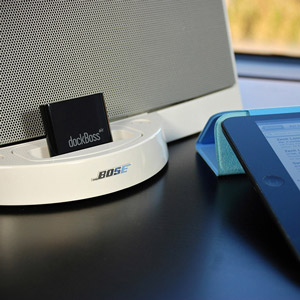 Universally compatible with any Bluetooth supported device
Ideal for Android smartphone users, the dockBoss Air supports Bluetooth with an A2DP protocol. This allows any Bluetooth-enabled device such as smartphones, tablets, PCs or laptops to connect to the dockBoss Air and stream music.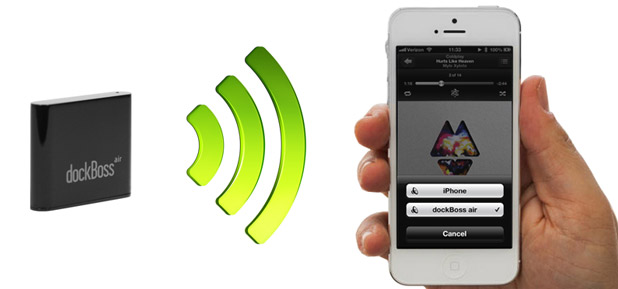 Enjoy music without wired restrictions
The wireless connection of the dockBoss Air allows you to take your mobile device with you so you can be sure to enjoy your music without being tethered to the dock. If you are using a smartphone then you can be sure that you won't miss a call and you can control your music in comfort.
Small and discreet design
The dockBoss Air is a low maintenance companion for any dock system. Its small adapter design can dock anywhere, even your car and it does not take too much room.
Please note: not all Apple 30-pin systems are supported by the Cablejive dockBoss range. Please see below for a list of incompatible systems and models.
Compatibility
Cablejive dockBoss systems are incompatible with the following docks:
Standard iPod Audio Docks
All models from Philips, Panasonic, Bowers & Wilkins, Bang & Olufsen, Denon, Onkyo, Pure
Sony Hi Fi models beginning in: "NAS" / "MHC" / "AIR" / "RD" / & "CMT" (however "CMT-LX20" IS compatible)
Yamaha's PDX-50 Wireless iPod System, TSX-140 Dock, & "MCR" models
iHome's "App Enhanced" docks (ex: iA100)
Belkin's "Thunderstorm" speaker system
Wadia's 170 iTransport
Factory Installed Car iPod Systems
ALL factory installed car audio systems 2008 and newer
Any and all factory systems (pre & post 2008) from Volkswagen, Audi, Nissan, Infiniti, Toyota, Lexus, & Mazda
Aftermarket Car iPod Systems
ALL Pioneer & Alpine systems
Also, any systems that link to sophisticated Navigation units, or ones that "lock" the screens of connected iPod devices and force control through the car-installed system only.
Home Theater iPod Systems
Pioneer, Panasonic, Samsung, Sony, Denon, Onkyo, iPort & Yamaha's "YDS" model interfaces