Most useful customer reviews
16 September 2015
A great device easy to use
A great device easy to use one criticism id that the Charging Indicator L.E.D. could be a little bigger as it is not easily seen.
2 Reviews
|
Write a review
---
Additional information

Drop and go charging for your Qi-enabled phone
Designed for quick and intuitive charging, the Nokia Wireless Charging Plate allows you to charge your Qi-enabled handset without the mess of charging cables. The DT-601 uses Qi induction technology to charge your phone quickly and easily once it is placed onto the plate. Smaller, lighter, and easier to carry around than its predecessor, the DT-601 is the perfect charger to carry around with you to keep your handset going.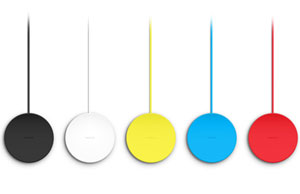 Features an LED indicator and over-charging prevention for smarter charging
This wireless charging plate features a subtle LED indicator which shows when your device is fully charged so you can see at a glance whether your handset is finished charging. Furthermore, an automatic shut off feature prevents your devices from continuing to charge once the battery is full. All of this allows for smarter charging of your Lumia handset.
Sleek and minimalistic design to match your handset
Designed with a colourful, minimilstic design, you can choose a charger that suits your personality, whilst reflecting the contemporary and sleek styling of the Nokia brand. Whether it is for use in the home or office, this charging plate will look fantastic in any setting.
Please Note: Not all smartphones come with the Qi standard out of the box, please check your device supports wireless charging (Qi) to take advantage of this feature.
For those that don't, we offer a range of affordable adapters and cases that add this superb technology to smartphones found here.
Technical Specifications:
Thickness: 9mm
Diameter: 65mm
Weight: 55g
Cable Length: 1500mm
Charger input voltage: 5 V DC
Charger standby consumption: Less than 150 mW
Charging Connectors: USB-A