Most useful customer reviews
25 May 2017
Best laser pen ever
Best Item Ever Best Item Ever Best Item Ever Best Item Ever Best Item Ever Best Item Ever Best Item Ever Best Item Ever Best Item Ever Best Item Ever Best Item Ever Best Item Ever Best Item Ever Best Item Ever Best Item Ever Best Item Ever Best Item Ever Best Item Ever Best Item Ever Best Item Ever Best Item Ever Best Item Ever Best Item Ever Best Item Ever Best Item Ever Best Item Ever Best Item Ever Best Item Ever Best Item Ever Best Item Ever Best Best Item Ever Best Item Ever Best Item Ever Best Item Ever Best Item Ever Best Item Ever Best Item Ever Best Item Ever Best Item Ever Best Item Ever Best Item Ever Best Item Ever Best Item Ever Best Item Ever Best Item Ever Best Item Ever Best Item Ever Best Item Ever Ever Best Item Ever Best Item Ever Item Ever Best Item Best Item Ever Best Item Ever Best Item Ever Best Item Ever Best Item Ever Best Item Ever Best Item Ever Best Item Ever Best Item Ever Best Item Ever Best Item Ever Best Item Ever Best Item Ever Best Item Ever Best Item Ever Best Item Ever Best Item Ever Best Item Ever Best Item Ever
8 March 2017
excellent
Very happy. Practical,useful. Pen writes very well(smooth).
8 March 2017
At Last
Getting a new stylus was always going to be a pleasure because my old one had suffered a puncture some time ago. I am glad I got this one though. As I don't make presentations I have no use for the laser, which is a great laser btw, or the torch which is as lame as y'd expect for a torch which is really a pen but I do like the weight of the stylus and the rubbery nose bit feels very substantial and I can be confident in my spelling.
147 Reviews
|
Write a review
---
Additional information
The Olixar Laserlight stylus pen is an ingenious tool for an amazing price. It incorporates not one, not two, but FOUR essential tools.
Like many classy pens, it includes a stylish black and silver finish with a clip for your jacket, shirt or clipboard. It also feels pleasant in the hand, but this is no ordinary pen...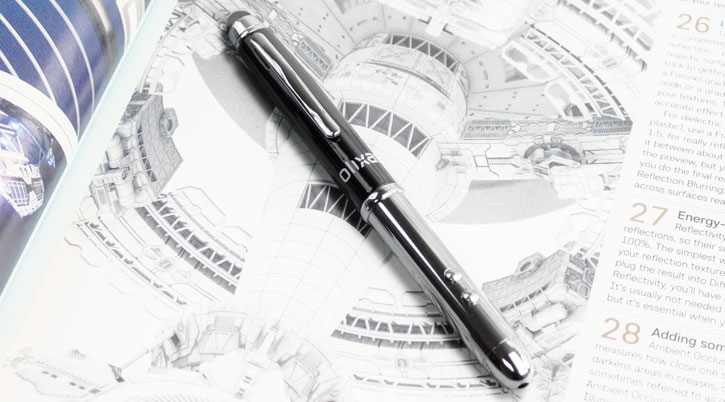 Push one button and you'll immediately notice the laser pointer. Push another and you will access the LED torch, while at the other end a handy stylus for your smartphone or tablet.
Let's look at the 4 functions in further detail...

Omnidirectional stylus tip for accurate on-screen interaction
The Olixar Laserlight Stylus Pen has an omnidirectional tip, which you are able to use on-screen in any direction you wish. This allows for accurate on-screen movements, drawings and precision touches.
By using the stylus tip, you will also have the added benefit of keeping those pesky greasy fingerprints off your smartphone or tablet display.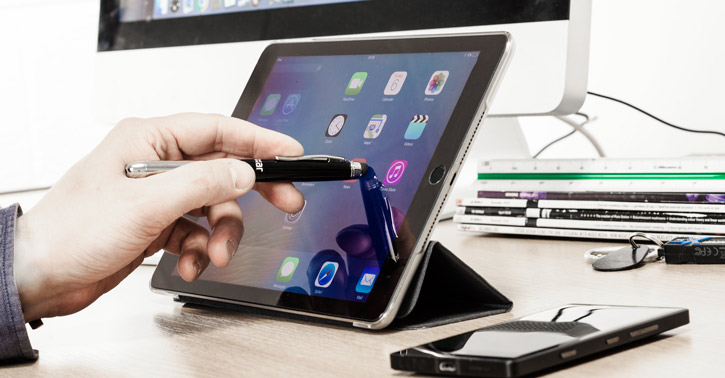 Ballpoint ink pen for smooth writing and illustration
Not only does the Olixar Laserlight pen include a stylus tip at one end, but it also features a refillable ballpoint ink pen at the other.
The ballpoint is satisfyingly smooth and writes like a high-end pen many times the value of this product. It's also fine enough for detail and illustration work.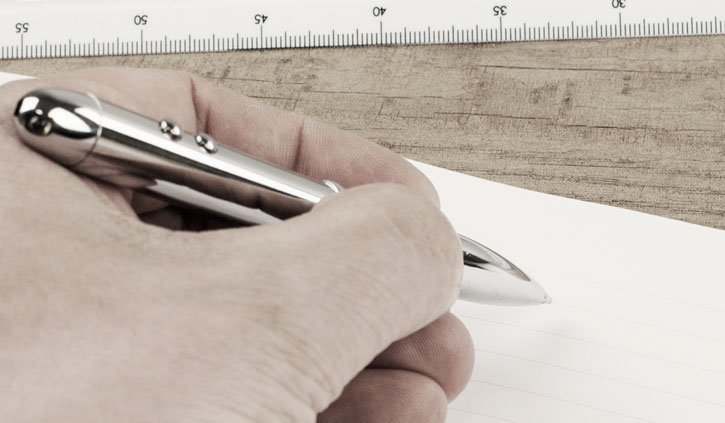 Laser pointer
Lecturer? General? Engineer? Tradesman? In fact anyone who needs to draw someone's attention to something can make use of the Olixar Laserlight Stylus Pen's built-in laser pointer. Projecting a surprisingly powerful red laser beam at an object, visible from a decent distance away.
Who doesn't enjoy pointing things out with a laser though?
Just be careful as lasers can be harmful to eyes if not used correctly (see safety warning below).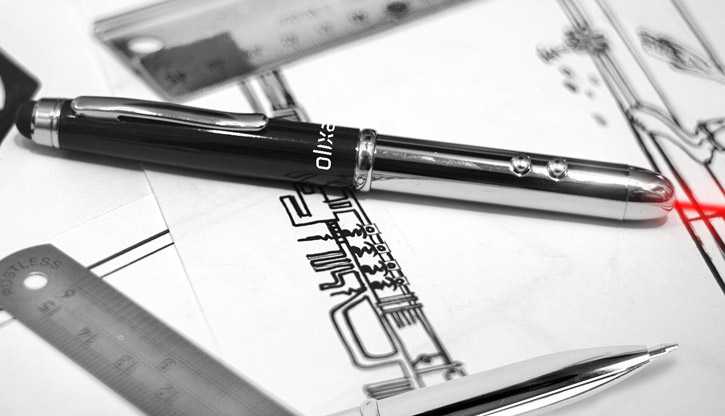 LED Torch
"You get an LED torch too? Really?" Yes, really!
Whether you've lost your keys, watch, phone or tablet in the middle of the night, dropped something down the back of the sofa or need to find your way to the electric box after a power cut - inevitably you'll need a torch.
The Olixar Laserlight Stylus Pen includes a compact, yet surprisingly powerful LED mini torch for when the occasion arises.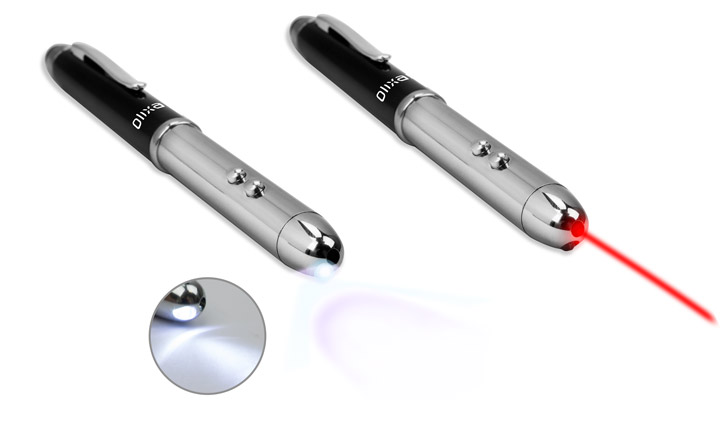 Safety Warning
This device should not be pointed at people or animals and can be dangerous if not used correctly. Avoid direct eye exposure to the laser beam. Do not aim the laser at reflective surfaces. This item is not a toy: do not allow children to use unless under the direct supervision of an adult.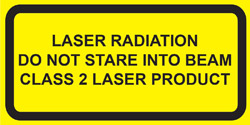 PLEASE NOTE:
This product includes batteries that have a plastic tab placed in-between them. You will need to remove this in order for them to work correctly.
Changing your refills
To change the Ink Refill, simply remove the black plastic stylus section to gain access to the pen section. Unscrew the silver pen section to access the long thin refill pen tip. Pull the refill out (may require a small amount of force) and replace with a new refill, then replace the silver pen cover and you're good to go.