Most useful customer reviews
Colin parsons
Sunderland
Super tooth budyhands free Bluetooth
24 March 2017
First class the write up as to what it does was spot on as they say does exactly what it says on the tin
It was bought for my friend from mobil fun on my say so as service is first class I had no problems in ordering it for him and he is over the moon with the product it does what he wants it too I myself have no problem recommending Mobilefun. to any one and do at least take a look at there Web site you won't be disapointed
6 March 2017
IT IS VERY USEFUL
IT IS VERY USEFUL AND VERY EASY TO USE WHEN YOU ARE DRIVING.
15 March 2016
Excellent product!
After my bluetooth handsfree set gave up the ghost I was on the lookout for another and came across good reviews for this - and they are totally justified! It is so much better than my old one - one that cost twice the price - much louder, much quicker to respond to the phone itself and all round better! Very happy indeed.
266 Reviews
|
Write a review
---
Additional information
SuperTooth, pioneer of the user-friendly Bluetooth speaker phone concept for car sun visors introduces the Buddy.
Compatible with all Bluetooth phones
Compatible with all Bluetooth handsets and fits in any car, you can be sure to stay safe on the roads with the SuperTooth Buddy Bluetooth v2.1 Hands-free Visor Car Kit.
With the mounting accessories included, the SuperTooth Buddy can be easily placed on your vehicle's sun visor.
You can also use the Buddy as a table-top hands-free device whether at home or in the office.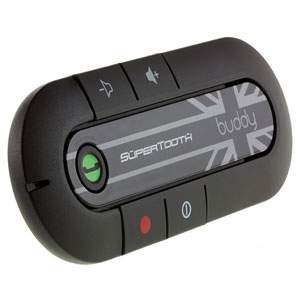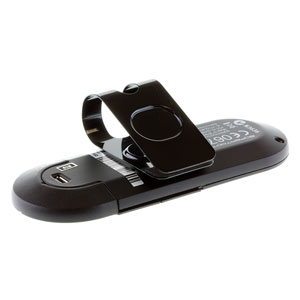 No installation required
The SuperTooth Buddy is extremely easy to use, with its magnetic clip the Buddy quickly attaches to your vehicle's sun visor for easy access.
Charging is also simple thanks to the handy USB cable charger provided.
Union Jack (Union Flag) graphic
Also includes a Union Jack graphic on the front of the device, representing the national flag of the United Kingdom as well as some of the smaller British overseas territories.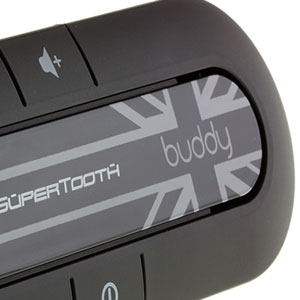 Multipoint technology
Pair 2 devices to the SuperTooth buddy at the same time, managing calls from each phone thanks to the inclusion of multipoint technology.
If you have a business and a personal phone, you no longer have to worry about missing calls on either while you're driving.
20 hours of talk time and 1000 hours of standby time
The SuperTooth Buddy boasts an impressive 1000 hours of standby time.
As if that wasn't enough - the Buddy also has the capability of 20 hours talk time too, meaning your SuperTooth Buddy will keep going as long as you do.
Lightweight and compact
The SuperTooth Buddy Bluetooth v2.1 Hands-free Visor Car Kit is a portable, lightweight, mini-sized hands-free device with an elegant design.
Provides a clean wireless audio connection with your Bluetooth mobile phone.
The sleek finish results in an almost unnoticeable device while you're driving, helping you to stay safe on the roads and free of distraction.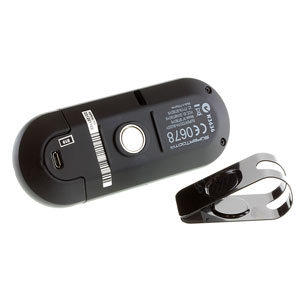 Full auto pairing
The Buddy by SuperTooth is as intelligent as it is attractive, due to its auto connect function.
Leave the device switched on when you leave your vehicle and when you return a short time later, the SuperTooth Buddy will instantly recognise and reconnect to your mobile as soon as you open your car door.
Crystal clear sound quality
Buddy's soft supple microphone covering and powerful speaker ensure top notch sound quality, as voices are both heard and transmitted more clearly.
Technical Specifications:
Dimensions: 128 x 49 x 13mm
Weight: 399g
Bluetooth: 2.1