Additional information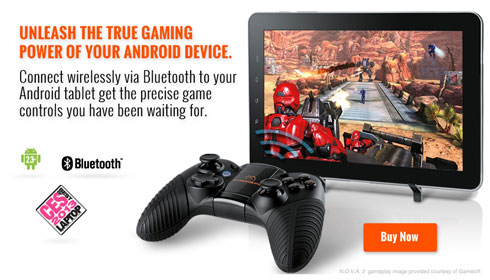 Fully-featured controller delivers precise, responsive control
Transform your Android smartphone or tablet into a precision mobile-gaming system with the MOGA Pro Controller. A full set of console-style controls ensures you'll game at the highest level with dual clickable analogue sticks, L1/R1 shoulder buttons, L2/R2 shoulder triggers, a D-pad and much more besides.
With a form factor based on contemporary video-game-console controllers, MOGA Pro Controller was designed with long-term gaming comfort in mind. Keep your hands and wrists comfortable so you can game on, anywhere, as long as you want.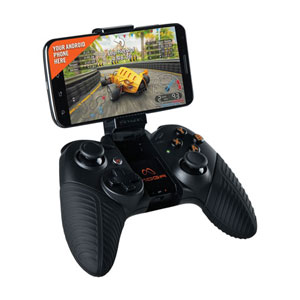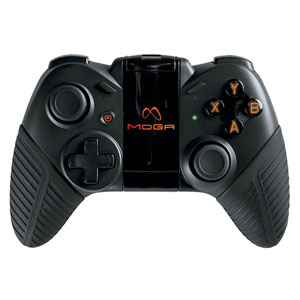 Bluetooth enabled for reliable wireless connections
The MOGA Pro Controller pairs wirelessly with your Android smartphone or tablet via Bluetooth. The controller's powerful Bluetooth transmitter instantly sends commands to your smartphone, avoiding latency. Since the connection is wireless, you can enjoy mobile games without having to hold your device.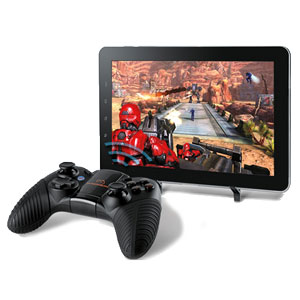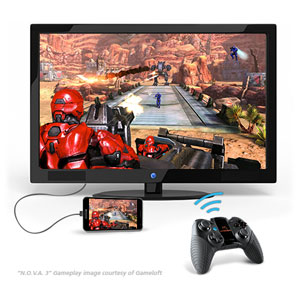 Works with Android 2.3+ devices

The Wireless controller is designed to work with Android 2.3+ devices. Your phone snaps right in to the MOGA Arm, which can accommodate the largest phones in the market - or kick back and game wirelessly on your smartphone or tablet.
Rubberised grips
The Moga Pro Controller resembles a modern day gamepad and features rubberised grip for improved control. The familiar gamepad layout makes playing a fun and enjoyable experience, while the rubberised grips minimse wrist fatigue during mobile gaming sessions.
MOGA arm firmly attaches to your smartphone
If you prefer a more hands-on approach, you can attach MOGA directly to your smartphone using the MOGA Arm. This extendable bracket grips your Android smartphone and holds it at an angle, transforming your mobile device into a handheld game console. The MOGA Arm can expand to accommodate devices up to 3.2 inches/82mm wide.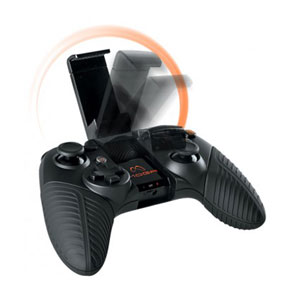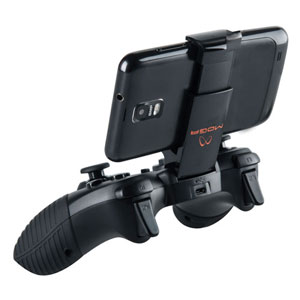 Tablet stand included
If you own an Android 2.3+ tablet, you can use the included tablet stand to position the device in front of you on a flat surface while you hold the controller - so even larger hardware can be easily used with the MOGA Pro Controller.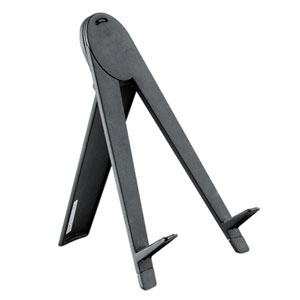 Ergonomic, portable design for longer gaming sessions
Featuring a contoured, ergonomic design - MOGA ensures your comfort even after hours of gaming. The controller's edges are coated in a tactile rubber grip, helping reduce wrist fatigue during extended gaming sessions. MOGA is also completely portable, with a compact frame small enough to slip into your pocket.
Rechargeable internal batteries
Featuring rechargeable internal batteries, the MOGA Pro Controller doesn't draw power from your device, which will keep you gaming for longer. The MOGA's internal batteries can be recharged through the provided USB charging cable.
Easily find compatible games with MOGA Pivot
The free downloadable MOGA Pivot App gives you instant access to the ever-growing list of MOGA Enhanced Games. The app searches Google Play and shows you exactly which games are compatible with MOGA, sparing you the trouble of researching which games will work.
Compatibility
The MOGA Mobile Gaming System is compatible with Bluetooth-enabled mobile devices running Android OS 2.3 or above.