CableJive dockStubz Case Compatible Lightning Dock Adapter

Product part number: LDOCK-STB
Product reference: 46717
The CableJive dockStubz gives you the freedom to use your Apple Lightning device within a dock with a case attached. The CableJive makes using other accessories a breeze as well as making your life easier, all while your phone stays protected.
"So Simple"
"Wish I had one earlier!"
"Casetastic"
Most useful customer reviews
17 August 2016
So Simple
This is such a simple gadget. It just works to extend the Lightning male end long enough so you don't need to remove the case to dock your device. It looks like it costs $4, but I can't find an alternative.
3 May 2016
Wish I had one earlier!
This little gadget has allowed me to take full advantage of the expensive docking stations and stereos I have bought without the need to remove my iPhone case. A great purchase and would highly recommend it to others.
Paul Davis
Cannock
Apple iPhone
16 April 2016
Casetastic
I use my phone always with a case. I like to dock it at the end of the day in my Bose sound dock, but with most cases this is not possible. This little gizmo now lets me have the case I want, and dock it at the end of the day. Perfect!
10 Reviews
|
Write a review
---
Additional information
Case adapter for lightning devices
There's nothing worse than investing in a great protective case for your valuable smartphone that you constantly have to take off every time you want to use it with accessories such as docks and charging stations. Well this is no longer a problem, thanks to the dockStubz from CableJive that allows you to leave your case on no matter where you dock your Lightning device.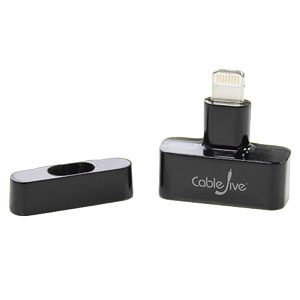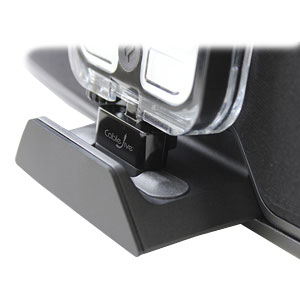 Fully case compatible
Now designed with an extra long neck to reach inside protective cases, the CableJive dockStubz is fully compatible with thousands of cases. A height adjuster is also included in the pack for use with slimmer, bumper style cases, so if you switch between cases your dockStubz will be ready.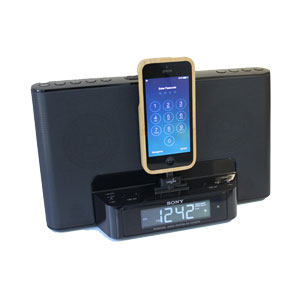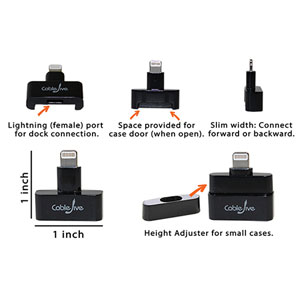 Supports simultaneous charging / syncing as well as music playback
The dockStubz allows for effortless charging, syncing and music playback, so no matter what you're connecting to, the CableJive dockStubz will work just as the accessory was intended too.
Secure, firm connection even with a case
Providing a secure and snug fit every time, the dockStubz is the ideal case compatible docking solution for your Apple Lightning device. Robustly engineered and discretely designed, the dockStubz will withstand day to day use and won't impact the sleek aesthetics of your smartphone and docking station.