OtterBox Defender Series iPhone 6S Plus / 6 Plus Case - Black

Product part number: 77-52241
Product reference: 49013
Protect your iPhone 6S Plus / 6 Plus with the toughest and most protective case on the market - the black OtterBox Defender Series.
"Brilliant customer services, and very helpful always with out a doubt."
"OtterBox Defender Series"
"Very good protective case"
Most useful customer reviews
Joao
London
iPhone 6 plus
13 April 2015
Brilliant customer services, and very helpful always with out a doubt.
I love mobile fun because I'm always able to find exactly what it is I'm looking for with in most cases next day delivery. I'm always very impressed at the high level of customer service I receive leaving me confident with my new purchase. Simply Brilliant never had a problem
14 December 2014
OtterBox Defender Series
Another excellent product from OtterBox Defender Series IPhone 6 Plus, OtterBox doesn't miss a beat, very well built as usual, I thoughl enjoy this iPhone cover, a cover to keep your iPhone brand new whilst inside.
Luke briggs
Portamouth
Iphone 6 plus
9 December 2014
Very good protective case
Unlike many other rubber cases this one does not feel cheap the texture and feel of the case is good to hold! It does add a bit of bulk to the iPhone 6 plus but makes it very secure and has a built in screen protector, new to this model over the previous iPhone 5s is that they have managed to cover the Touch ID so you no longer get a dirty ring round the home button, also with the phone now having rounded edges it seems more comfortable to hold, and somehow thinner! All in all Although expensive I would recommend this case, as you defiantly pay for what you get with these types of products
14 Reviews
|
Write a review
---
Additional information

Rugged multi-layered case withstands heavy impact damage
Designed to provide ultimate protection for your iPhone 6S Plus / 6 Plus, the OtterBox Defender series is comprised of layers with different protective material properties. Firstly, a two-piece polycarbonate interior shell holds your iPhone 6S Plus / 6 Plus securely in place, adding extra rigidity and strength.
Additionally an outer rubber slip cover fits snugly around the inner shell to provide superior shock absorbency, dissipating impact away from your device with added bump and shock protection.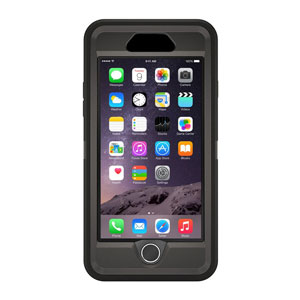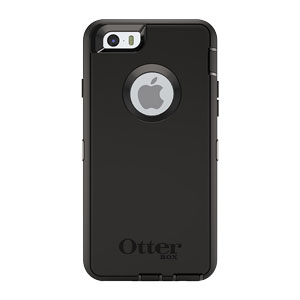 Built-in screen protector prevents scratches
Built within the polycarbonate interior of the case is a thermal-formed screen protector with an anti-fingerprint coating. This helps to prevent damage to your display without impeding the sensitivity of the touchscreen.
Silicone port covers keep out dust and debris
The charging and headphone ports within the Defender series case are protected by silicon plugs that keep out unwanted dust and grit.
Includes detachable belt clip holster / kickstand
With every Defender case comes a detachable plastic holster with a belt clip. This allows you to attach it firmly to your clothing or belt for easy access and the smooth ratcheting motion of the clip also allows the holster to double as a landscape viewing stand for your iPhone 6S Plus / 6 Plus.