Love Mei Powerful iPhone 6S Plus / 6 Plus Protective Case - Black

Product part number: SOTCA337200
Product reference: 49971
Protect your iPhone 6S Plus with one of the toughest and most protective cases on the market, ideal for helping to prevent possible #bendgate damage - this is the black Love Mei Powerful Protective Case. Also compatible with the 6 Plus.
"Great service - delivery took a while, but very helpful folk; great product"
"Good protection"
"The business"
Most useful customer reviews
19 July 2017
Great service - delivery took a while, but very helpful folk; great product
Thanks, excellent product and even better service.
Don Roberts
Gloucestershire/Wiltshire
Love Me I Phone 6 plus case
5 December 2016
Good protection
For I Phone 6 plus this is my 3rd case and so far it is the better one . this one is not falling apart. I have dropped it and the phone has not been damaged
jerry st clair-pedroza
nottingham
iphone 6 plus
22 July 2016
The business
Ok so what you have here is the Love Mei Powerful protective case for the 6 plus/6S plus. it is a beast of a case, gorilla glass screen protector built in so no fiddling about, metal front and back casing with a rather nicely fitting rubber gasket sandwiched between the front and back metal casing all screwed together with 6 allen key drive screws, all the access ports line real sweet and the bonus is that mic/headphone and the charging sockets have good dust plugs fitted, all the buttons on both sides work very well, the only fuss is if you use thumb print for you access you have to remove the metal home button on the face panel, I have had mine for about two weeks now no problems, ok it is big no mistake there but i think its worth the money. Fitting took me about 5 minutes just make sure you clean the screen and the inside of the screen protector well before you screw everything together. Comes with spare screws, handy allen keys, cleaning wipes and a wrist strap if you wanna use it. If you want protection for your 6 plus/6 s plus this is the dogs dangles.
32 Reviews
|
Write a review
---
Additional information
Rugged 'Impact Truss' case withstands heavy impact damage
Designed to provide ultimate protection as well as being dust and water-resistant, the Love Mei Powerful case for the iPhone 6S Plus / 6 Plus is comprised of protective aluminium material and a special impact truss to help prevent damage and any potential #bendgate issues with your device.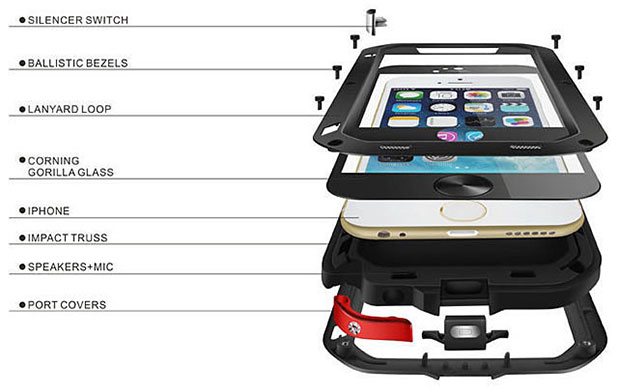 With shockproof rugged protection and high impact ballistic bezels with low profile pocketable construction, the Love Mei Protective Case for the iPhone 6S Plus / 6 Plus offer powerful protection with its purposeful design.
Built-in screen protector prevents scratches
Featuring an industry-first Corning Gorilla Glass impact lens for screen protection, helps to prevent damage to your display without impeding the sensitivity of the touchscreen.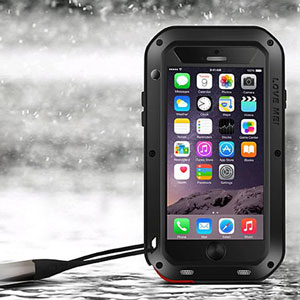 Sealed audio and charging ports keep out dust and debris
The charging and headphone ports within the case are protected to keep out unwanted dust and grit.
Lanyard loop
With the built-in lanyard loop, the Love Mei Powerful Case for your iPhone 6S Plus / 6 Plus can be attached to your wrist or other secure location with ease.
Direct access to all ports and features
Even though your iPhone 6S Plus / 6 Plus will be fully protected, the Love Mei Powerful Case still allows access to all the ports and features of your device and will not interfere with the proximity sensor.