Additional information
Transform one EU mains socket into 4
Ideal for keeping up with the huge amount of mobile devices and peripherals in households and offices, the PowerCube instantly transforms a single EU mains socket into four and also features two USB charging ports for good measure. This means you can power and charge multiple devices simultaneously through the PowerCube.
2x USB outputs to charge two mobile devices simultaneously
Designed to support easy USB charging of devices, the PowerCube allows you to charge two USB cable supported mobile devices EUom just one mains power socket. Using your existing charging cables, the PowerCube's 2.1 Amp output can be used to charge smartphones, tablets, iPhones, iPads, iPods, MP3 players, digital cameras and e-readers.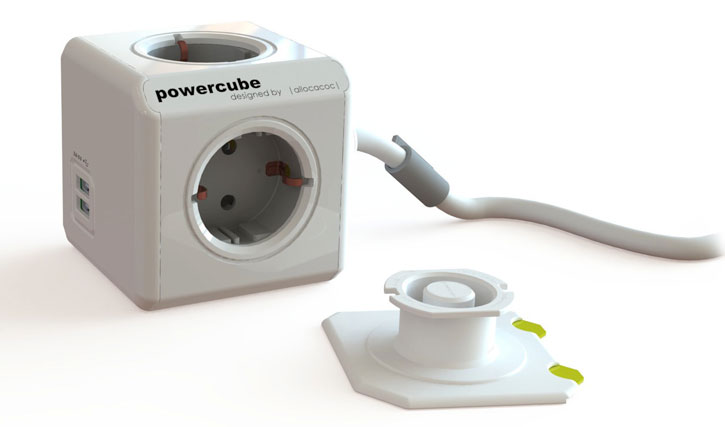 Mount the PowerCube anywhere
With the included stick-on dock, you can fix the PowerCube to your desk, wall or other location for easy access or simply for storage. This ensures you can fix the PowerCube to a stable location and you are not limited to just a single wall socket, instead enjoying 3 mains sockets and 2 USB ports for all of your charging needs.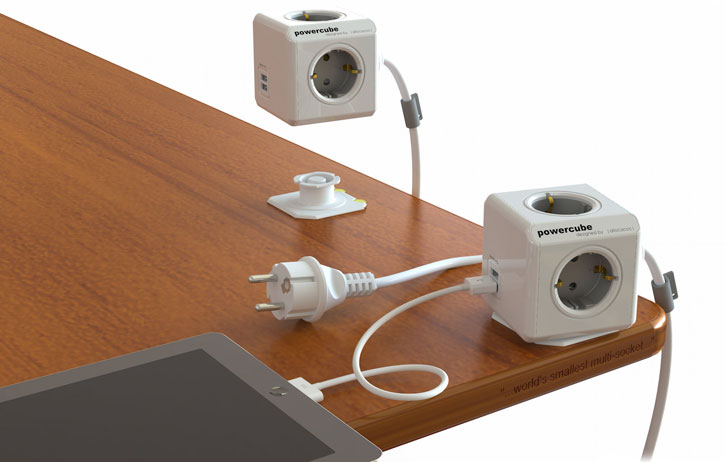 The included removable adhesive tape allows you to position the PowerCube and its docking station securely on your desk and can be removed with ease.
Space saving design
With its cube-like appearance, the PowerCube is an extremely tidy device for keeping all of your power charging needs together and within easy reach.
Multiple PowerCubes can be placed side by side due to its cube design, allowing many devices to be charged without the clutter.
1.5m extension
The PowerCube features a 1.5m extension cable, so it can be placed on desks or positioned out of the way of the wall sockets. It also means you can easily access the 4x mains charger sockets and 2x USB ports without having to reach around to an awkward location.
Specifications
Colour: Trolley Grey
Voltage: 110-240V
Outlets: 4
Cable: 1.5m/5ft.
Mounting dock: Included
Cable fix: Included
Grounded: Yes
Child proofing: Yes
USB Output (V): 2 x 5V
USB Output (A): 2100 mA