Elago W2 Universal Wooden Smartphone & Tablet Desk Stand

Product part number: EST-W2
Product reference: 53008
Universally compatible, the W2 Wooden smartphone and tablet Stand from Elago makes holding your device easier than ever. The sleek, wooden body fits in with any surrounding, while stand creates the perfect viewing angle.
"Pretty & Useful"
"Great service."
"Aesthetics over functionality"
Most useful customer reviews
4 September 2017
Pretty & Useful
Nice looking phone thingy that does as it should. Makes my phone look very smart on my desk. Also helpful for hangovers when you CBF getting out of bed to watch a movie and you stream through your phone. Happy with purchase.
17 November 2015
Great service.
The wooden smartphone stand is tops. The red replacement metal back for the Galaxy S5 is great looking but one cannot use the phone because of the metal. Regards, Kathryn.
Matt Goodall
East Brisbane
11 September 2015
Aesthetics over functionality
It looks great but in case you are wondering, although there is a hole at the back to feed a cable through there is no way you can connect it to the bottom of a phone... So kind of useless in that regard but I just turn it on its side and connect a cable when needed.
4 Reviews
|
Write a review
---
Additional information
Universal design supports any smartphone
The Elago W2 Wooden Smartphone and Tablet Desk Stand is completely gadget-friendly, which means that it doesn't matter which smartphone or tablet you have. Devices can be placed comfortably in either a horizontal or vertical position on the stand, to ensure a firm and stable mount. The Elago W2 Desk Stand sits discreetly to provide a dedicated home for your mobile device and looks great at your desk or on your bedside table.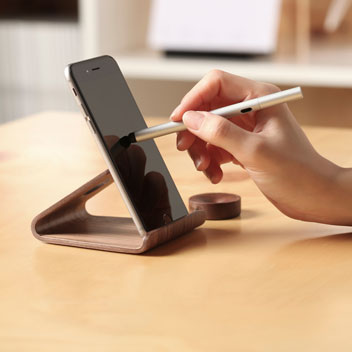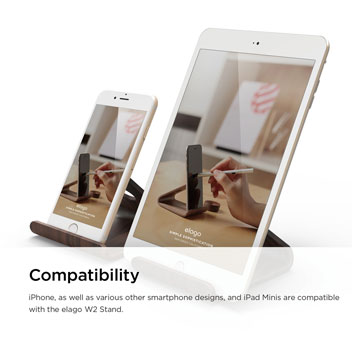 Modern and natural styling from 100% natural Walnut
This discrete, lightweight and stylish stand from Elago is perfect for holding smartphones in place, allowing you to get on with whatever you're doing while your phone remains visible at all times. The beautifully crafted body looks fantastic and is crafted from completely natural walnut wood. With such high quality materials being used, the Elago W2 Smartphone and Tablet Stand is suitable for any surrounding it finds itself in, perfect for use at home, in the kitchen or at work. Lightweight but incredibly sturdy, the Elago W2 provides the perfect place to rest your device.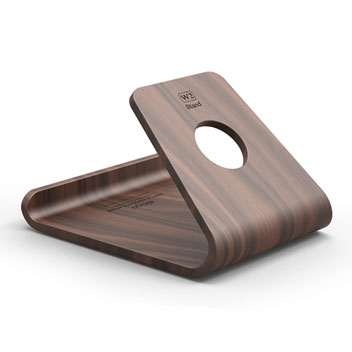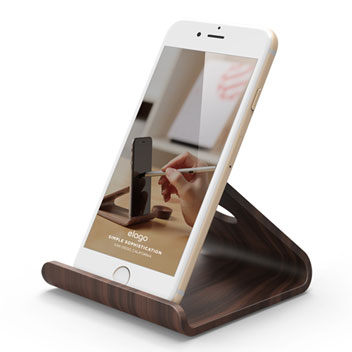 Brilliant for watching media
The W2 stand is perfect for watching movies, reading eBooks, following recipes, surfing the web, conducting presentations, viewing photos or anything else you can think of. It's a highly professional grade product that is affordable and great value for money.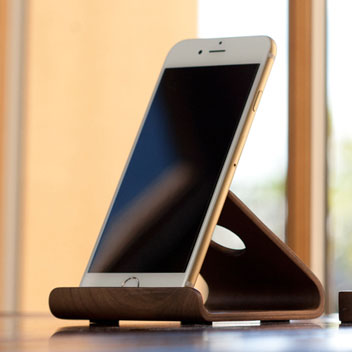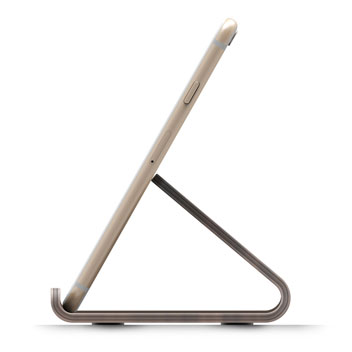 Supports landscape and portrait orientations
The simplistic design of the Elago W2 allows you to position your device in either a vertical or horizontal position for viewing movies, reading texts or playing games.
Cable management system
The cable management system built into the back of the Elago W2 allows you to neatly manage your cables when charging your device or transferring data between your phone and computer, making this the ideal stand for your desk.
Case compatible
You don't need to remove your smartphone or tablet from its case to use this fantastically useful stand. It will work just as well in its case, saving valuable time without you having to compromise on protection.
Please Note: The majority of cases will work with the Elago W2, however large, heavy-duty cases may struggle to fit.