Additional information
All the same protection but in a slimmer package
Slimmed down but still tough, the Griffin Survivor Slim for the Microsoft Surface Pro 4 provides all the same protection but in a more convenient and bag friendly size.
Made to U.S military standards
The Griffin Survivor Slim is one of the most protective cases built for the Surface Pro 4. Tested and certified to meet or exceed US Department of Defence Standard 810G, Griffin's Survivor Slim Case is designed from the inside out to protect your Microsoft Surface Pro 4 from extreme conditions.
Dirt, sand, rain, shock, vibration and a host of other environmental factors - the Survivor Slim case from Griffin is there to protect your Surface Pro 4.
Rigid internal frame protects against shocks and drops
Survivor Slim is built on a impact-resistant polycarbonate frame clad in rugged, shock absorbing silicone. The Survivor Slim has been tested to protect a Microsoft Surface Pro 4 from a drop on a flat concrete surface from a 2m height. Additionally, sealed ports prevent dust and sand that typically could damage the dock connector, headphone port, hold switch and volume controls.
Shield deflects wind and rain
Built-in protectors cover the front and back cameras from dust and stand.
Built-in viewing stand
The Survivor Slim case has a built-in viewing stand ideal for viewing movies and playing music through the Microsoft Surface Pro 4.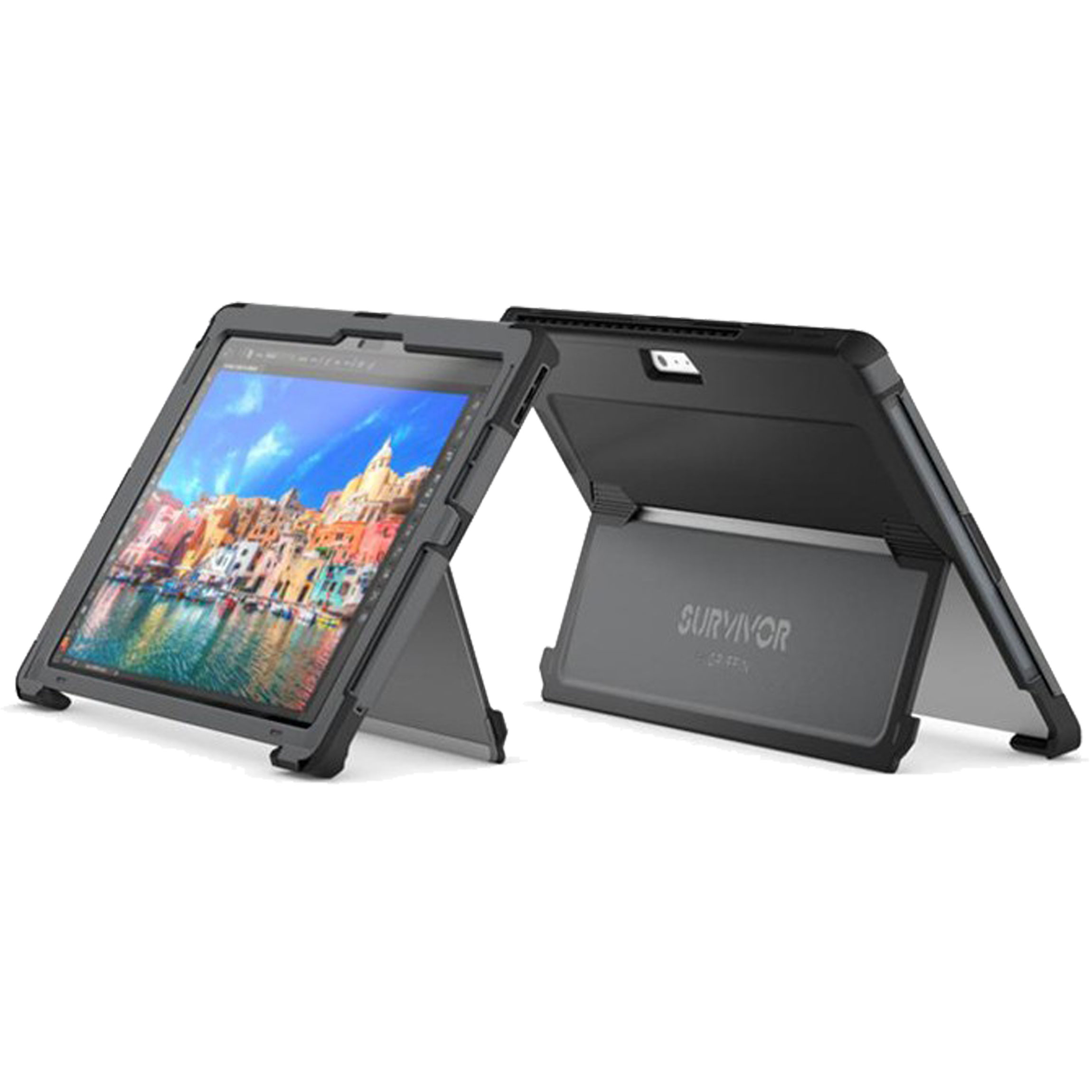 There are no reviews for your native language. Please select an alternative filter above.
Average rating 5,0 given by 1 customers | Write a review
Anonymous
paris
3 May 2016
surface pro 4
superbe
très bonne coque pour surface pro 4, l'une des seules bien adapté du marché. et vu les modèles pourris qu'on trouve en magasin en France... c'est la solution idéale avec protection en gomme dure et plexi pour l'ecran
Translated from French
0 out of 0 found this helpful
Did you find this review helpful?