Most useful customer reviews
18 April 2017
So simple ... yet so brilliant!
Got myself a Leef iAccess Micro SD Reader because it was either this or get a new iPad. But this. I love this! My Leef arrived last night and I used it immediately. It didn't work. I was sad. But then I thought - maybe I've got the card in wrong? So in and out, upside down, and then 'click'. It didn't click, you see! But then it clicked and - wow. This reader is just so easy to use. Simply download an app (I did this 2 wks ago in preparation) and BOOM! I kid you not - there's an immediate msg, then BOOM! You're in! And I LOVE that I can play avi, mp4 and mkv movies without even trying! This was it's sole purpose. It has well exceeded my expectations. And has saved me $$$s. And I will tell everyone to come here and buy one. Such a great idea and a great price, too!
21 January 2017
Great
plugged in the iAccess into my iPhone 6S, was asked to download an app and that was it. works all the time when you plug it in. Save movies and music for the long long drive
15 September 2016
necessity for any iPhone or iPad user
This little gadget is a true necessity for any iPhone or iPad user with the lightning connector. My iPhone (16GB) was running out of storage and i was sick of having to delete photos or take off movies. I now can increase my phones storage to as much as i need up to 128gb micro sim card. i will never run out of storage. I can now take my micro sim card out of my GoPro camera and view, edit and post my footage straight from my iPhone All because of this great little device Leef IAccess. Really easy to use. So glad i found this
13 Reviews
|
Write a review
---
Additional information
Perfect for any camera enthusiast
Whether you use an action camera, DSLR or drone camera, the Leef iAccess is the perfect storage solution, whilst also giving you the ability to view, edit and share your content on the go.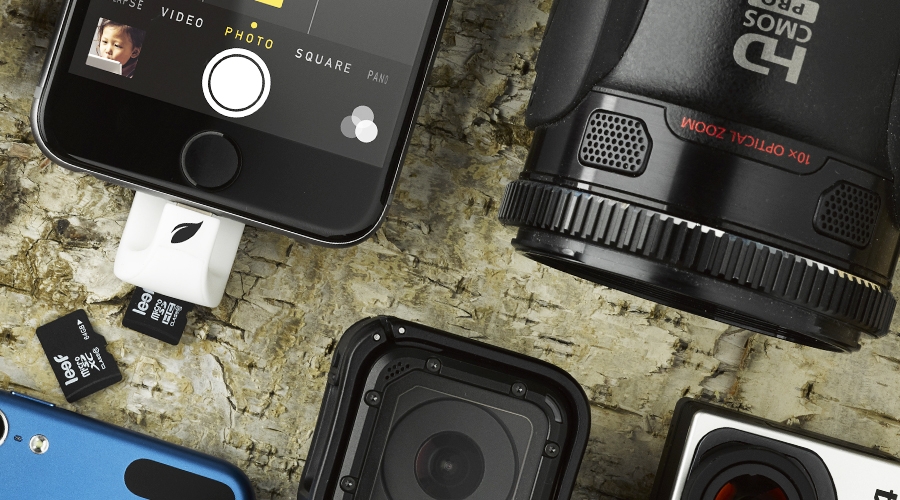 Store and enjoy
Storage space is always at a premium, so being able to transfer and store your precious media on the iAccess gives you the freedom to take more photos and videos without having to clear space beforehand. This is invaluable as it frees up your device's storage for the next photo opportunity, family video or action footage.

Please note: For devices that use SD cards, an SD adapter will be needed to use a Micro SD card within your device to use with your Leef iAccess.
Never miss that moment
You can capture photos directly to Leef iAccess so you never miss life's most memorable events. Simply plug in your Leef iAccess to your iPhone or iPad, click on iAccess Camera in the Leef iAccess app and start clicking away.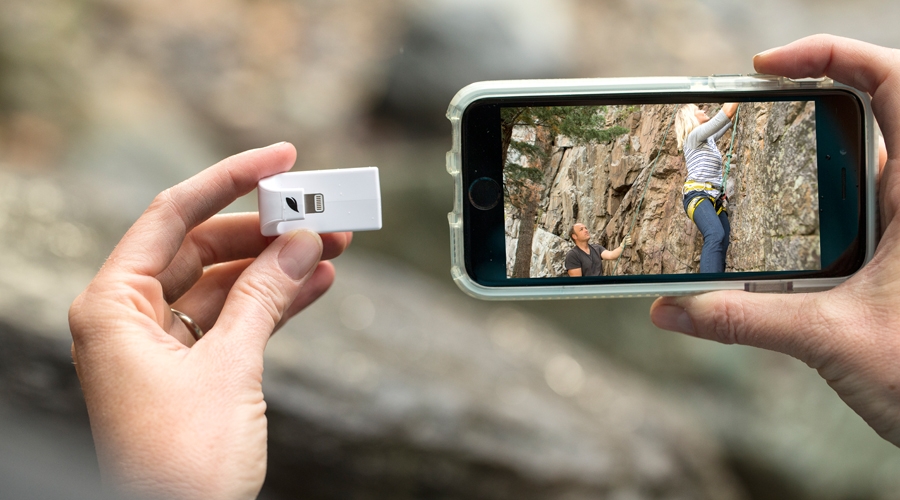 Watch anything, anywhere, any time
Leef iAccess allows you to carry your entire movie or music library along with you without taking up a single MB of space on your iOS device. Whether it's a long flight for work or a family road trip, simply load all your media onto Leef iAccess and never run out of entertainment.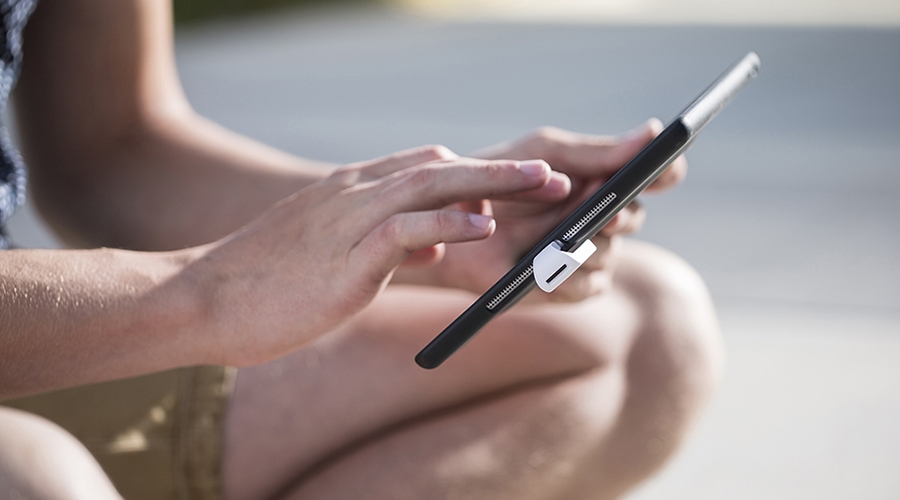 Easily move and share files
Leef iAccess expands the storage on your iPad, iPhone and iPod at a fraction of the cost. Now you can easily safely backup & share photos, videos, and music between iOS Devices and your Mac or PC.
Unique ingenious design
The unique 'J' shape of the iAccess means that you can use it with pretty much any case. It fits the form of your devices perfectly and will not get in the way any more than it needs to.
Apple licensed product
This product is 'Made for iPod, iPhone, iPad' certified, ensuring that the Leef iAccess is of the highest quality and allows you to transfer files easily between a range of your iOS devices.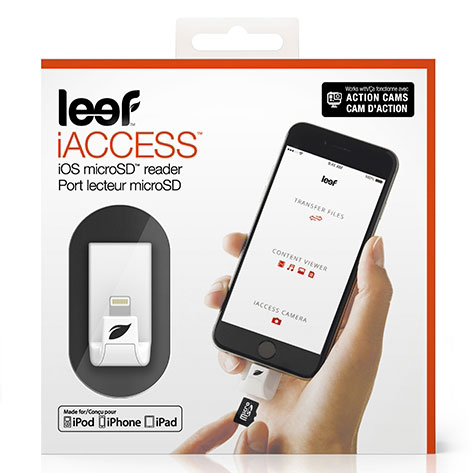 Specification
Card Compatibility
8-128GB
Dimensions
40.5 x 21.0 x 16.6 mm
Weight
6g
File compatability
Video
.m4v, .avi, .3g2, .mov, .m2v, .3gp, .mpv, .m-jpeg, .xvid, .flv, .mpeg, .mpg, .mkv, .wmv, .asf, .qt
Audio
.aac, .adts, . ac3, .aif, .aiff, .aifc, .caf, .mp3, .m4a, .snd, .au, .sd2, .wav, .he-acc, .aax
Note: Apple does not allow iTunes DRM audio and video files to played on external apps
Images
.tiff, .tif, .jpg, .jpeg, .gif, .png, .bmp, .bmff, .ico, .cur, .xbm, .jpe, .con
Documents
.pdf, .doc, .xls, .xlsx, .docx, .ppt, .pptx, .key, .numbers, .pages, .txt, .rtf, .ics, .htm, .html, .epub, .fb2