Most useful customer reviews
4 September 2017
Best bang for you buck purchase
Great depth of sound, surprisingly powerful bass that is not overwhelming but omnipresent throughout. Clear high with good balance between both ears. I have tried many brands of earphones throughout my life and these are undoubtedly the best in terms of value and sound quality, however the build is not as strong as I would have liked but for the price it is decent. If you are on the fence about purchasing these, I suggest you hop on over and make the purchase. Overall: Warm, deep and powerful sound
9 August 2017
Excellent value for the money!
I am very impressed with these earphones. I can hear sounds that I've never heard before on familiar songs. Huge soundstage that envelopes you with sound. Thanks MobileZap.
12 June 2017
Great bang for buck
Very pleased with these SoundMagic canalphones. They work great with my Android phone with good quality sound and a quality microphone. For music, they pack a lot more depth than I was expecting with a nice, warm sound without over-emphasising bass. The overall package is unexpectedly nice with a good quality case and plenty of accessories. I definitely feel that for the price they live up to the hype and reputation they have on various review sites.
23 Reviews
|
Write a review
---
Additional information
Robust all metal construction
This attractive two-tone set of earphones are constructed with a modern metal design and features a stunning premium finish. The E10C In-Ear Headphones are suitable for comfortable listening or for use when out and about, so you can enjoy your musical entertainment at home, work or on your travels.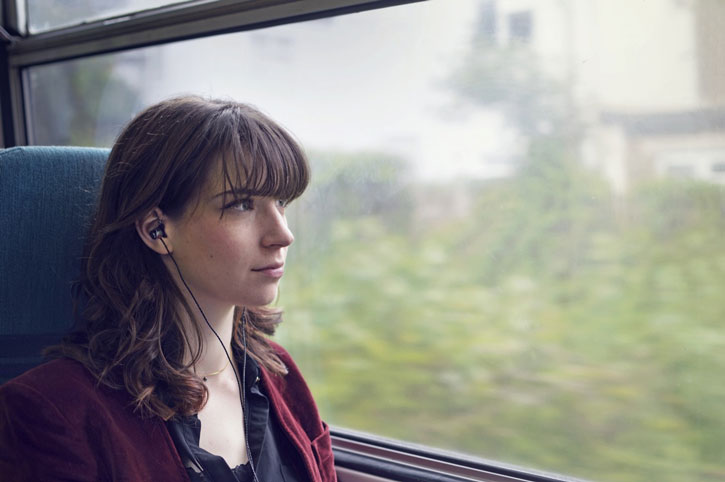 Superior sound quality
The award winning and highly acclaimed in-ear earphones by SoundMAGIC ensure your music is represented in the finest quality, far beyond that of what the price may suggest.
With clear overall sound, powerful bass yet balanced with superb details - the SoundMAGIC E10C Earphones are sure to delight your ears as well as your musical soul.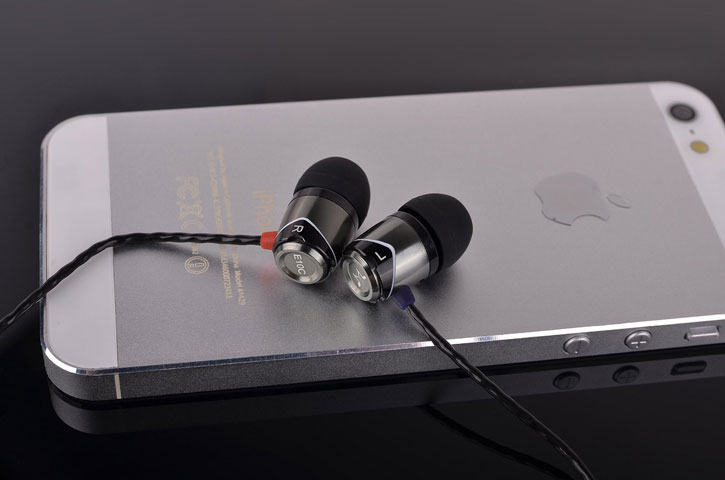 Secure and comfortable fit with interchangeable ear pieces
The SoundMAGIC E10C Earphones are designed to be as secure in your ears and comfortable as possible. This has been achieved with interchangeable ear pieces, making it possible for all users to find a comfortable fit.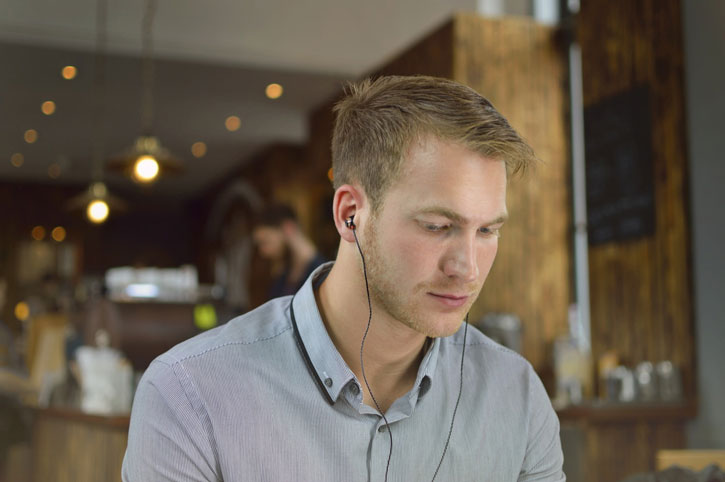 Built-in remote automatically detects your device
The ingenious part of the SoundMAGIC E10C headphones is contained within the in-line remote found on the cord. Once the 3.5mm jack input is plugged in to your phone, a microchip within the remote will automatically detect whether you have an iOS or Android device and adjust the function of the controls accordingly. True universal compatibility is here.
As if that weren't enough, the remote also features a built-in microphone and volume controls, meaning you can take, mute and end calls, adjust your music's volume and skip tracks all without even touching your phone.
Noise isolation for less distractions
The In-Ear design of the E10C Headphones ensure that any outside interference from those around you fails in diminishing your audio listening experience. This also ensures your music isn't easily overheard, so you don't disturb those around you.
Comes with a free carry case and much more besides
In the box is a hand carry case for when you're not using your earphones. There's also a cable clip to secure your cord to your clothing. There are also various size ear pieces in the box to ensure your earphones are comfortable and secure.
Winner of What Hi-Fi Sound and Vision Awards 2016
Winner of the prestigious and industry recognised 'What Hi-Fi Sound and Vision Award 2016' in the 'best in-ears' category in their price range, the SoundMAGIC E10C In-Ear Headphones are proven to be a fantastic choice for music enthusiasts who wish to listen to their music at home or on the move.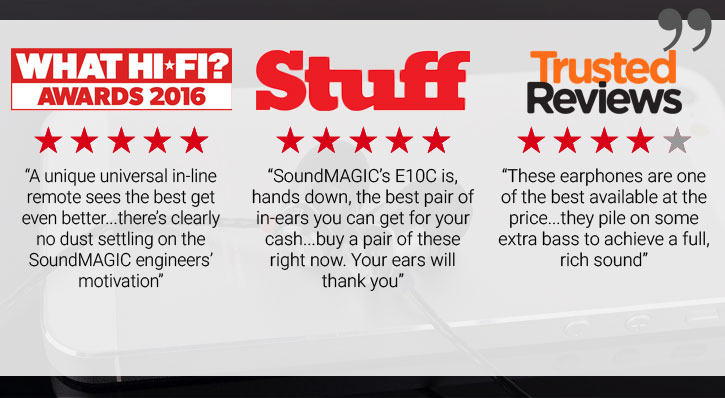 Specifications:
Driver: Dynamics,10mm,Neodymium
Frequency range: 15Hz-22KHz
Impendance: 46±10%Ohms
Sensitivity: 100±2db at 1KHz/mW
Maximum input power: 20mW
Cable length:1.2m
Connector:3.5mm gold-plated Plug
Weight:11g