Additional information
Hand strap designed to hug you hand and keep your iPad secure
Has your iPad Mini 4 ever slipped out of your hand while standing still or on the move? Have you ever been worried about it getting knocked out of your grasp while sitting on the train? The Griffin iPad Mini 4 AirStrap 360 Full Rotation Case keeps your hand securely fixed to your device so that you can put your mind at ease.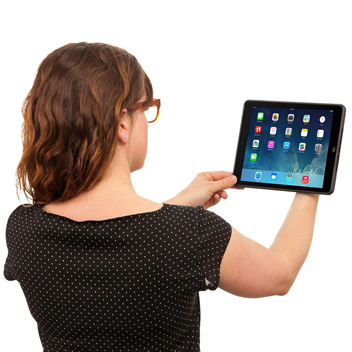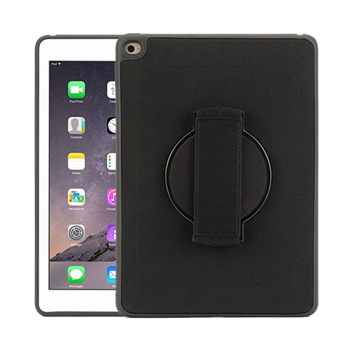 Rotates 360 degrees while being held - locks at desired angle
Twist your cases to any angle you want while keeping it gripped to your hand. The he Griffin iPad Mini 4 AirStrap 360 uses a structured frame that rotates in 30 degree intervals for comfortable viewing angles.
Make full use of your tablet while on the move
Keep your tablet at hand while performing everyday tasks - such as delivering presentations, making surveys, using GPS to navigate outdoors, watching a film or Skyping on the move with comfort. Thanks to the adjustable strap you can securely attach your device to your hand while doing nearly anything.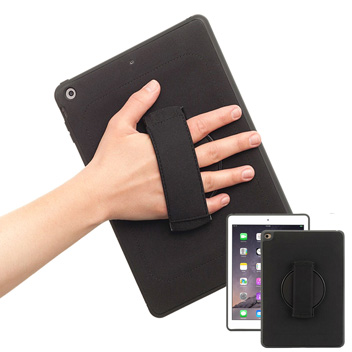 Ultimate durability and comfort
Made from synthetic fabric - the Griffin Airstrap 360 provides you with all the durability, reliability and comfort you will need. It also features a padded hand strap, which ensures a comfortable and effortless hold.
Access all your ports and features
This tough protective case has been designed specifically for the Apple iPad mini 4 and has cut-outs for the main ports and features of the smartphone such as the camera with flash. The power and volume buttons are covered, but remain functional while encased to give unbeatable protection.
Thick fabric to protect your iPad
The case is designed with minimalism in mind, unlike other bulky cases - the slim profile will fit perfectly around your iPad providing a premium stylish look.
Landscape and portrait mode
Easily adjust your device either in landscape or portrait mode, depending on your preference and activities.
Designed for iPad Mini 4
The case has been carefully crafted to meed the dimensions and thickness of the your iPad Mini 4. The fit has been specially designed for the iPad Mini 4 so the fit is naturally perfect.