Most useful customer reviews
Bob Newman
Suffolk
PhotoFast MFi CR-8800 IOS Micro SD Card Reader/Writer
11 April 2017
This micro sd reader/writer for IOS is very simple to use via it's app
This micro sd reader/writer for IOS is very simple to use via it's app. It can store numerous different file types, i'm using it to store audio, video and image files. The device seems well made and so far has coped well with almost daily use. The only negative is that, when plugged into a device, it's quite exposed and could possibly get damaged with careless handling.
1 Reviews
|
Write a review
---
Additional information

Free up space on your iPhone or iPad
Fed up with your iPhone, iPad or iPod Touch running out of storage space? Maybe your collection of photos, selection of music tracks and downloaded movies are to blame... The PhotoFast CR-8800 is perfect to create extra storage on the go. Featuring a slot for a Micro USB card, you'll have extra storage instantly for your Lightning compatible device, meaning you'll no longer miss taking that perfect photo or video.
Transfer all your files between your iOS devices
The PhotoFast CR-8800 offers the ability to easily transfer, store and share all of your favourite videos, music, photos and personal data between your iOS and Micro SD devices. This includes iPads, iPhones and computers etc.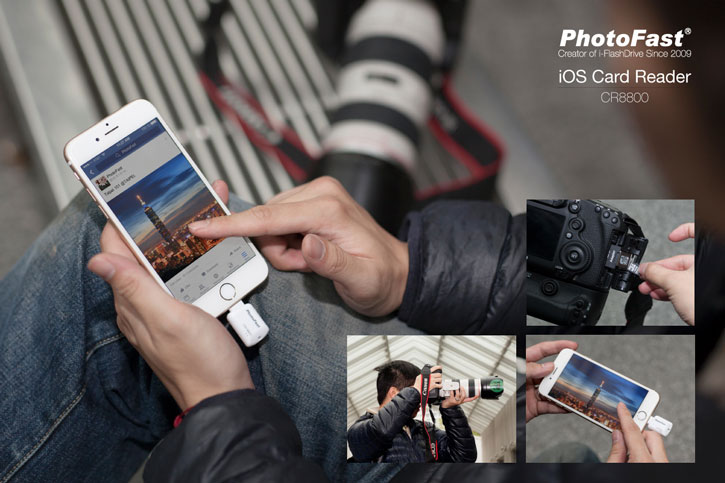 Action camera and SLR camera compatible
The PhotoFast iOS Card Reader is also compatible with action cameras and digital SLR cameras, meaning you'll easily be able to move photos from your camera to your iOS device and view them instantly.
Free PhotoFast i-FlashDrive ONE app
Available on the App Store to download for free, the i-FlashDrive ONE app has been designed solely with the CR-8000 in mind. The PhotoFast app also features its own Media Player, so you can enjoy a wide range of popular file formats on your device wherever you are without using any of your mobile data allowance.
Music playback
Once stored on a Micro SD card and used with the PhotoFast CR-8800, you'll be able to play music directly from the card reader.
Watch anything, anywhere, any time
PhotoFast CR-8800 allows you to carry your entire movie or music library along with you without taking up a single MB of space on your iOS device. Whether it's a long flight for work or a family road trip, simply load all your media onto PhotoFast and never run out of entertainment.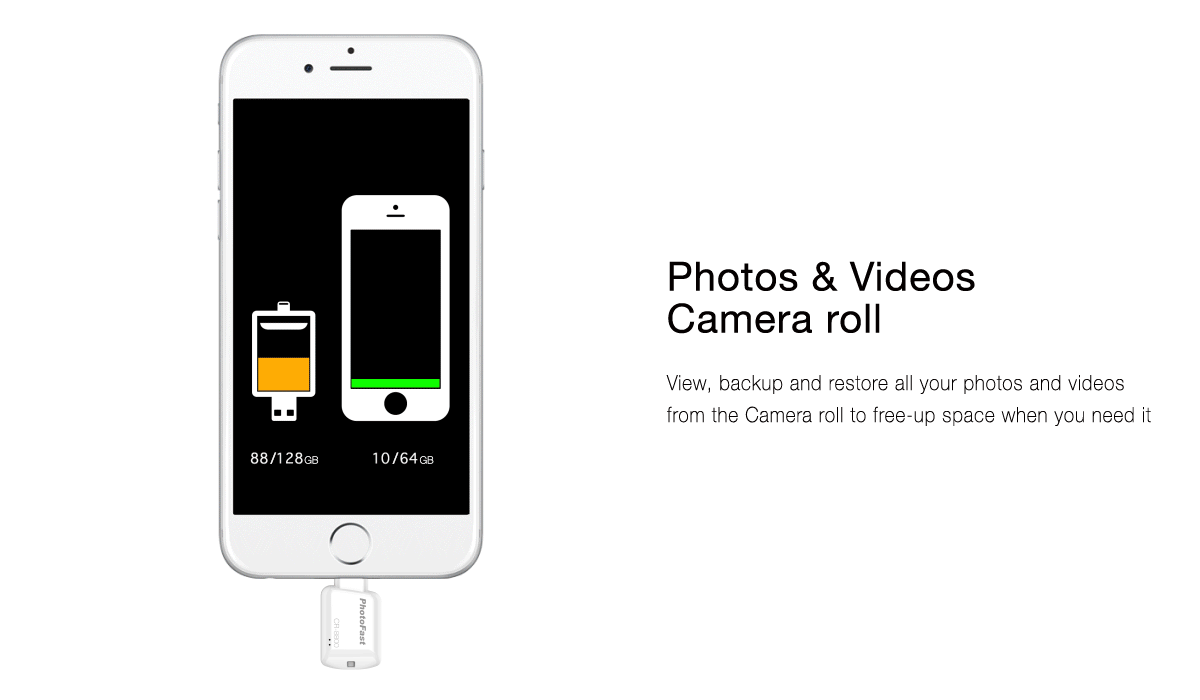 Easily move and share files
PhotoFast expands the storage on your iPad, iPhone, and iPod at a fraction of the cost. Now you can easily safely backup & share photos, videos, and music between iOS Devices, your Mac or PC.
Backup and access your social media albums
With support for various social media platforms, the CR8800 can access your YouTube and Vimeo accounts, while also having the ability to backup albums from Instagram, Facebook and Tumblr to name a few.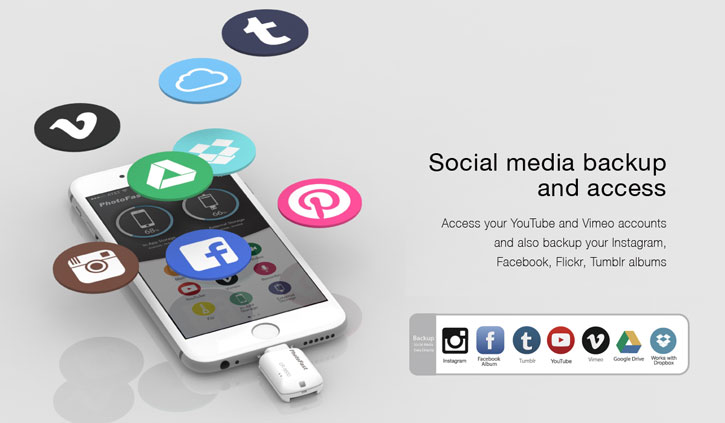 Supports Apple AirPlay for streaming video to the TV
Stream content to your AirPlay compatible receiver, so you can view videos, music and photos on the large screen.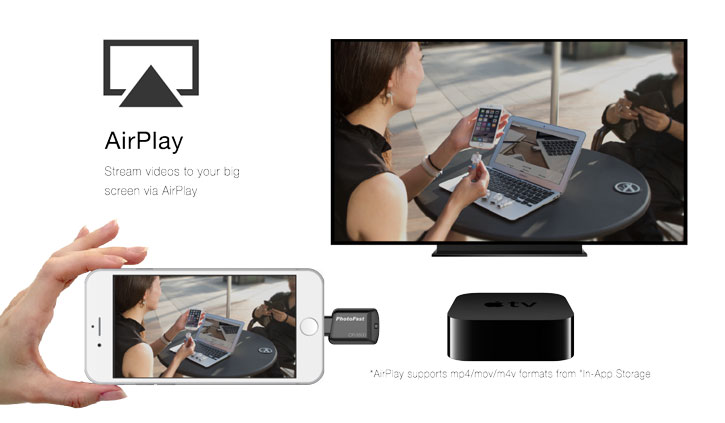 Note: Black version shown for illustration purposes only
Voice recorder
Through the PhotoFast i-FlashDrive ONE app, you'll be able to record and store voice memos, directly to the CR-8800, making transferring voice memos between devices even easier.
File security for peace of mind
Protecting your files and keeping them secure is made easy with the PhotoFast CR-8800. Files can be protected in a number of ways including enabling App Lock, which supports Touch ID. The Lightning Lock featured on the CR-8800 provides further security for your most important files and folders.
Cloud storage integration
With integrated Cloud storage, the PhotoFast CR-8800 allows you to transfer files to and from your Google Drive or DropBox accounts directly to your PhotoFast storage.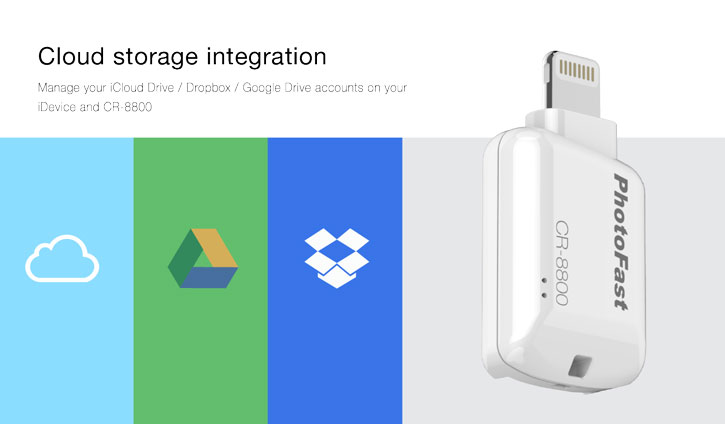 Apple certified
As the PhotoFast CR-8800 iOS Card Reader is 'Made for iPhone' certified, you can be sure that this Micro SD reader is fully compatible with your device and also follows strict Apple guidelines. This ensures that this product is of the very best quality and designed specifically to meet all of Apple's performance standards.
Compact and portable design
The PhotoFast CR-8800 is the perfect storage device to take with you wherever you go. This Micro SD Card reader has been designed with portability in mind and ready for when you need it most.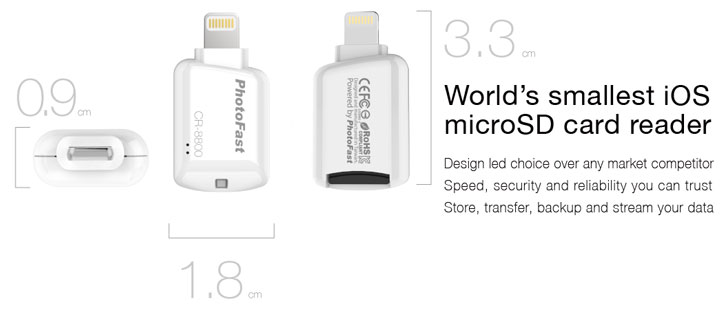 Specifications
Connection: Lightning
Compatibility: iOS 7/8/9
Size: 33.1 x 18 x 9.1 mm
Weight: 3 ± 0.5g
Storage: Up to 128Gb Micro SD cards
Supported File Formats
Document: Pages, Numbers, Keynote, doc, docx, xls, xlsx, ppt, pptx, rtf, txt, html, pdf
Image: jpg, png, bmp, gif, tif, tiff, ico, xbm, cur
Audio: mp3, aac, aif, aiff, wav, m4a, caf
Video: mp4, mov, m4v (without DRM), mkv, avi, flv, rm, rmvb, wmv, vob, 3gp
Others: zip