ADVANCED SOUND Model 3 Hi-resolution Wireless In-ear Monitors - Clear

Product part number: ADVMODEL3-CLR
Product reference: 61040
Engineered to provide Hi-resolution audio, the Adv Sound Model 3 in-ear wireless monitors deliver clear, precisely tuned sound. Featuring aptX support and a unique hybrid design, the Model 3s can be used via Bluetooth or as a wired set.
"Great product and good value"
"Best Sound Quality"
"Excellent sound quality for the money, Bluetooth not the greatest"
Most useful customer reviews
6 December 2017
Great product and good value
Does exactly what I need for a great price. Currently used as a bluetooth receiver for my Shure SE535's and works a treat. Battery life is average.
15 January 2017
Best Sound Quality
First and foremost, these have the best sound quality of any headphones I've bought. For £80 these are good value for wired ear buds, the fact these are both wired and bluetooth just makes them better. They aren't perfect but they sound better than their rivals priced twice as much. The separation is great, you can hear everything perfectly. The fit is comfy and they stay in place well. You will not regret buying these, I certainly don't. A very solid 4.6 out of 5.
10 August 2017
Excellent sound quality for the money, Bluetooth not the greatest
Pros: - Excellent sound quality for the price. Neutral and balanced. - Wired and wireless option in the same package - Range of foam and silicone tips - Bluetooth receiver and IEMs use standard MMCX connectors Cons: - Bluetooth remote control buttons a bit finicky - Bluetooth range and connection stability not as good as some other brands
16 Reviews
|
Write a review
---
Additional information
Hi-resolution Wireless Audio combined with AptX technology
Engineered with Super Wideband micro-dynamic drivers and certified by the Japan Audio Society, the Model 3 In-Ear Monitors from ADVANCED SOUND deliver a truly hi-resolution audio, over a wireless connection. Featuring Digital Signal Processing (DSP) and AptX Technology ensures the audio produced has optimum clarity and means you'll be able to listen your music the way it was intended to be heard.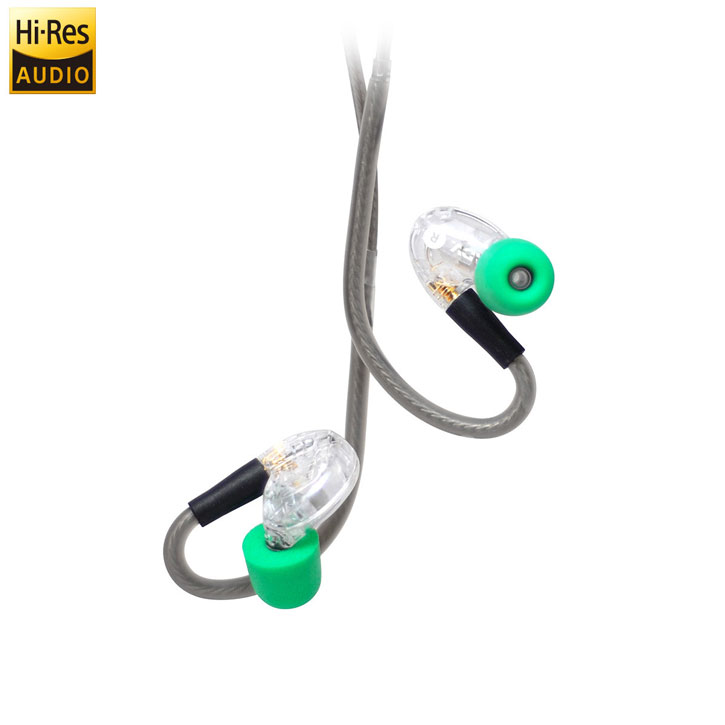 Unique convertible design from wired to wireless
The ADVANCED SOUND Model 3 In-Ear Monitors feature a world's first unique design as they can be converted from wireless to wired in a matter of seconds. When you've run out of battery with the wireless cable, simply detach it and attach the wired cable, ensuring you'll be able to continue to your music.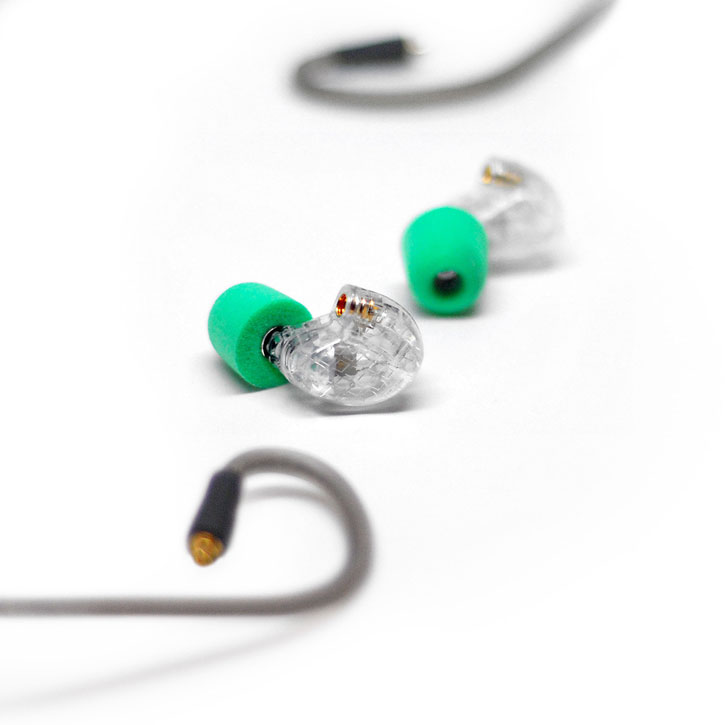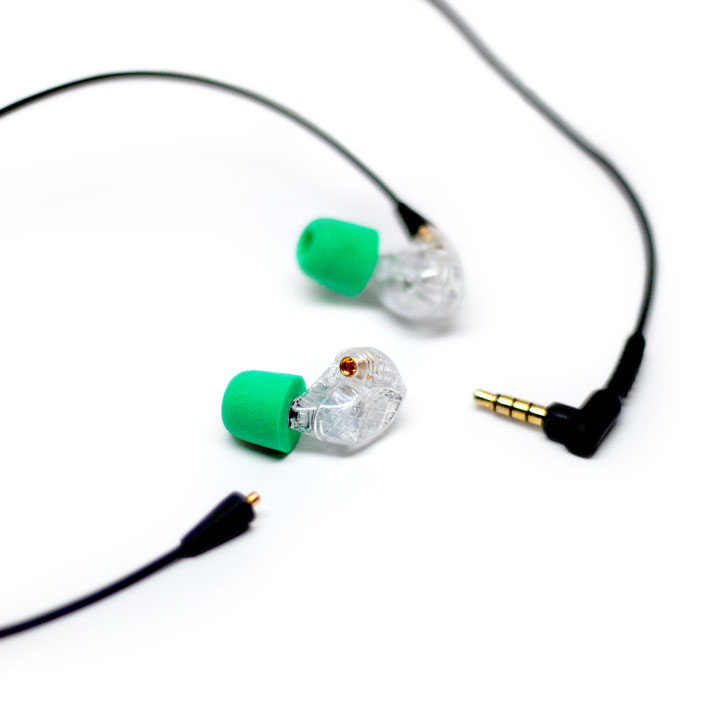 Up to 5 hours play / talk time
Packed with an impressively large battery life for such a compact pair of earphones, the ADVANCED SOUND Model 3 Monitors allow for up to 5 hours of playback, so you can keep enjoying the music you love for even longer.
Built in remote / mic for hands-free calling
The built in remote / mic gives you full access to controlling the functions of your device via Bluetooth; this could be taking calls, skipping between your favourite tracks or adjusting the volume. Featuring CVC 6.0 noise reduction technology, the Model 3 In-Ear monitors reduces noise from the background, making them ideal for use on your daily commute.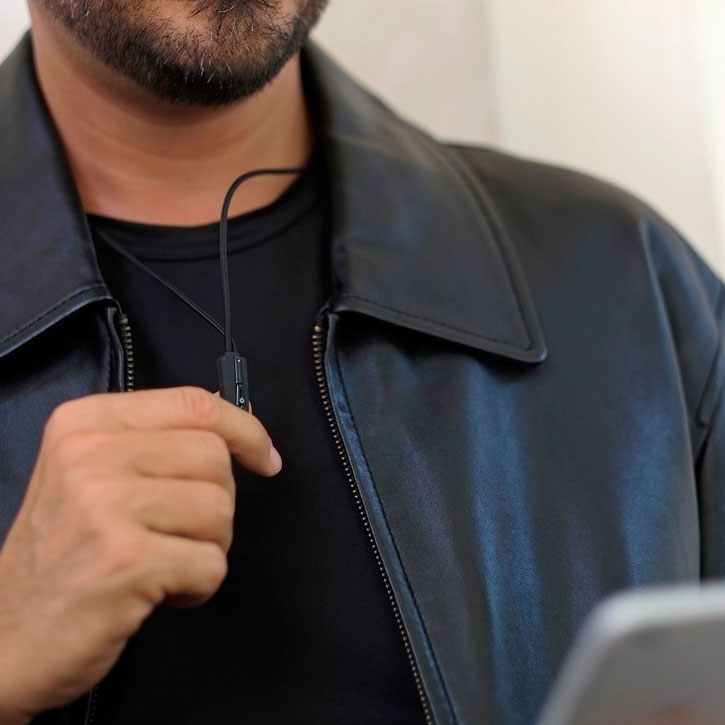 Magnetic Design
For functionality, these In-Ear monitors have been designed with a magnetic design between the charging port and battery, meaning they can be worn around your neck without having to worry about them falling out. In addition, the magnetic design contributes towards hiding the charging port.
Interchangeable tips for optimum comfort
The Model 3 In-Ear Monitors come with a set of two types of tips; green foam and black silicone. With the option to change the tips, you'll be able to ensure you have the most comfortable monitors possible. Three pairs of each tip are provided in different sizes, so you'll be guaranteed to get the perfect fit.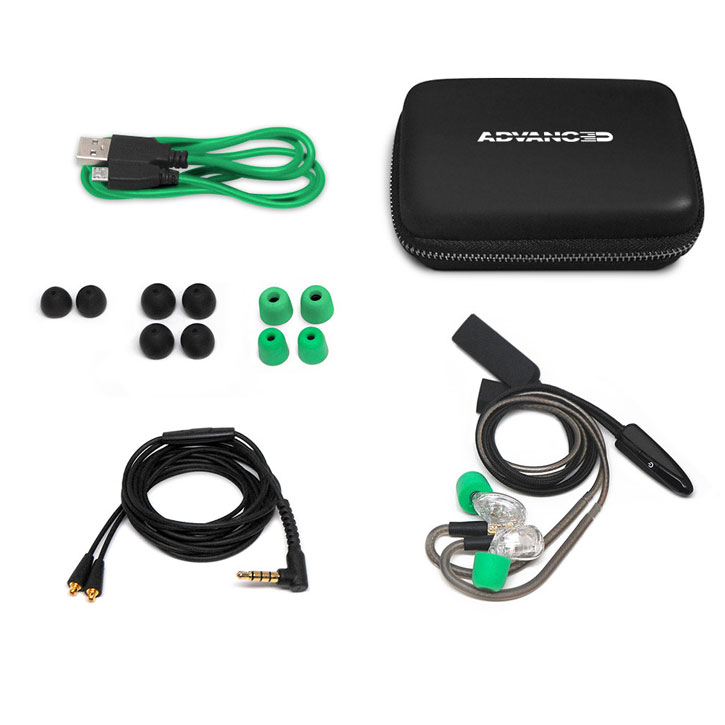 Included premium carry case
When you're on the move, protect your ADVANCED SOUND Model 3 earphones with the provided carry case, while also being able to store the charging cable and spare tips.
Technical specifications:
Driver Unit: Custom tuned single dynamic drivers
Impedance: 16 Ohm+/-15%
Frequency response: 20Hz - 40kHz
Wireless music / talk time: Up to 5 hours
Charging time: 1.5 hours
Bluetooth Version: 4.1 + aptX
Connection distance: 10m (33ft)
Charging port: Micro USB, DC 5V/60mA
Cable length: 1.2M