Most useful customer reviews
phil young
houghton-le-spring
Olixar super fast lightning car charger
24 March 2017
Car charger with super quick capabilities
Always the first place to look when you need a mobile solution. Needed an apple charger for the car but also a mini usb for andriod devices. Best of both worlds found on Mobilefun website and as a special offer! Long days mean I'm always running out of battery but no time to wait to re-charge. This Olixar charger is super quick and even on the shortest of car journeys puts enough life back in your batteries to keep you connected. and it will charge my tablet at the same time as it has a usb slot as well. Happy customer thanks again to Mobilefun!
Maureen White
Greasby, Wirral . Merseyside.
http://www.mobilefun.co.uk/olixar-super-fast-lightning-car-charger-with-usb-port-4-8a-black-p62035.htm
23 March 2017
MY LIFE SAVER!!
I recently purchased this car phone charger, & boy was I glad! I used my mobile as a sat nav to get to where I was going, no problem, but then continued to use my mobile to video & take pictures @ the concert, not realising I needed the phone to use as sat nav 2 get me home! & with only 10% battery left well was I GLAD! I had my phone charger I purchased in my car
Jan Morris
Camberley
Car phone charger
23 March 2017
This product is really good
This product is really good. If you are on the go and you forget to charge you phone then with this very good phone charger can get you fully charged to keep getting on with your day and never get caught out.So go on and get this phone charger.
117 Reviews
|
Write a review
---
Additional information
Super fast 4.8A total output for charging even the most demanding devices
On the road and you need to ensure your devices are fully charged and ready to go when you are? The Olixar Super Fast Lightning Car Charger with USB Port features a total of 4.8A power output, so your devices can charge quickly while driving and are ready for action when you need them most. The Olixar Lightning car charger is suitable for use with the iPhone and even has plenty of juice for even the largest of iPads - ensuring that your favourite Apple devices are kept fully charged wherever you are.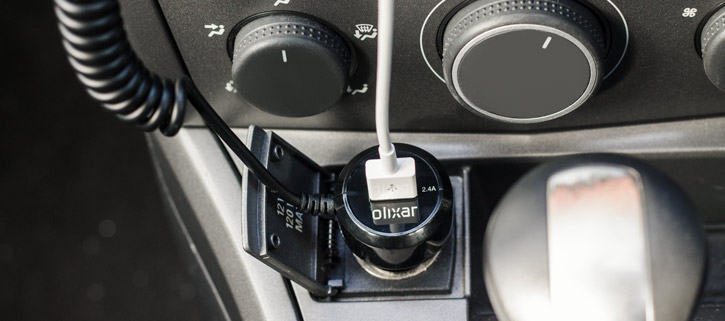 Integrated Lightning cable is extendable, space-saving and tangle-free
The built-in Lightning cable ensures you always have a method of charging your iPhone, iPad or iPod Touch in your vehicle. Ideal for saving space and reducing clutter, the Olixar Lightning car charger has a spiral cord design which extends to provide plenty of range without causing any tangles.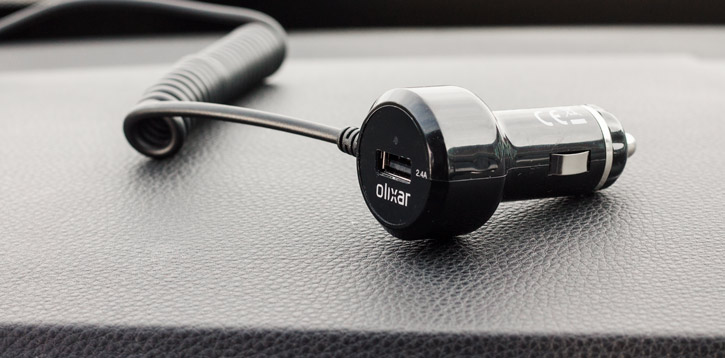 Built-in universal USB charging port
When you need to charge devices that don't feature a Lightning connector, the built-in universal USB charging port allows you to charge USB-C, Micro USB or any other USB-compatible connector using your own cables. Need to charge your iPhone and an Android device? Perhaps you have an iPad low on power and your passenger needs to charge their Samsung Galaxy too? No problem, this product has it covered.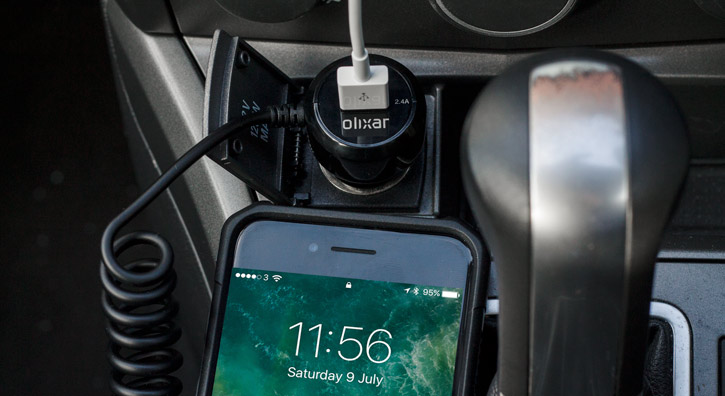 Charge two devices at the same time
With 2.4A output via the integrated Lightning cable and another 2.4A output via the built-in USB charging port - you have the power to charge two devices quickly and at the same time.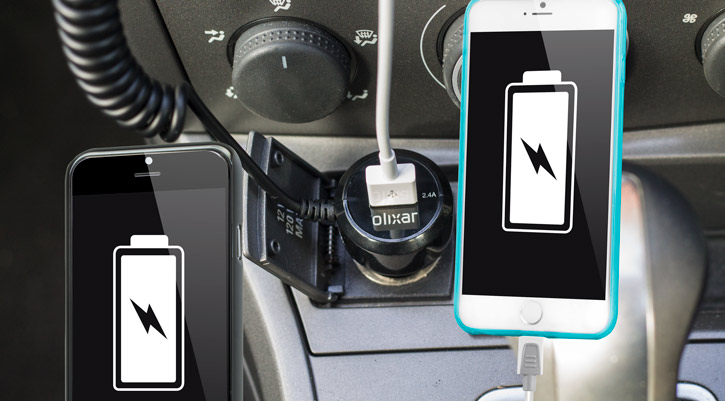 Ergonomic 'Lightning' car charger is easy to use
This iPhone car charger from Olixar has been designed to be as comfortable to use and as functional as possible. Featuring a straight design, it can be easily plugged and unplugged from your car's electrical port. Its small size is a welcome bonus as it will not hinder any operation of your vehicle or take up any more space than necessary.
Charge both smartphones and tablets
With a total output of 4.8A split between the integrated Lightning cable and the built-in USB universal charging port - you can be sure your smartphone and tablet can charge fast and efficiently.