Most useful customer reviews
21 November 2017
Awesome
Very satisfied with keyboard. Ordered one before for my daughter for highschool and just had to buy another for me. Just love the fact can use Android PC and Apple too. Very happy customer. Locally would have cost me over $100.
23 August 2017
Liked it
I liked the fact that the keyboard is white with grey characters and not black with white characters. I had no trouble connecting it to my Tablet. Just followed the instructions and it worked.
20 August 2017
Satisfied with Product
Haven't used it much,so I can't say too much about the product.I know it works because I tested it when I set it up !
50 Reviews
|
Write a review
---
Additional information
Universal iOS, Android and Windows keyboard
When you're in full work mode, you don't want to constantly switch between touch and typing. Not to worry - this device's Command keys can be used to access (for instance) quick iOS shortcut keys for crucial functions like media playback, copy-and-paste and screen sleep / wake, as well as productivity suite features such as justification and text formatting - so you can do everything from the keyboard.
This stylish and sleek Wireless Bluetooth Keyboard will bring comfort and convenience to your typing, texting and emailing world and allow you the freedom to work anywhere. It is small enough to be fully portable, like your your phone or tablet, but much easier, quicker and more accurate than using the onscreen keyboard or keypads, allowing you to be more efficient whilst on-the-go. The lack of wires makes for a cleaner less cluttered workspace too.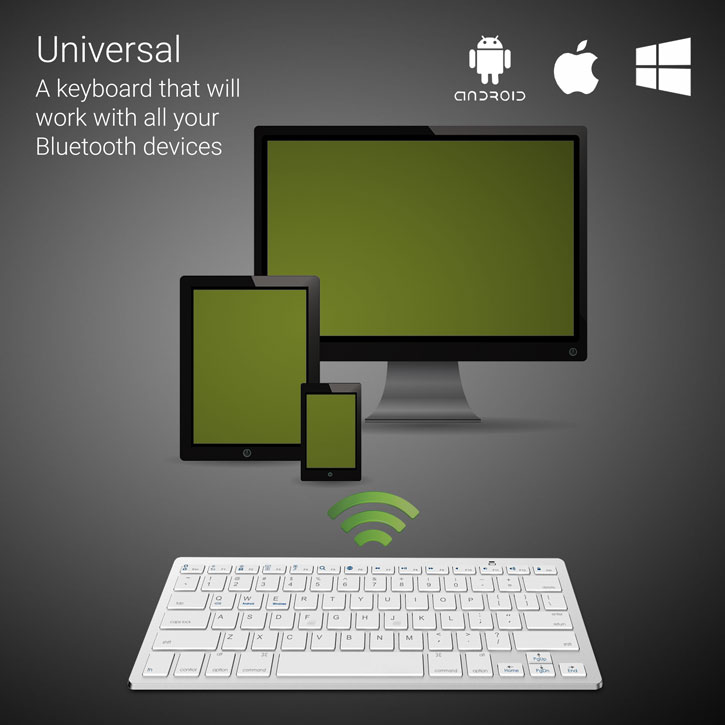 Sleek, modern styling
Crafted from the high quality materials, the Bluetooth Keyboard delivers a look and feel that compliments your device and surroundings perfectly, with a silver and white colour scheme to match your modern technology.
Ergonomically designed for responsive touch - to maximise your efficiency
One thing is crucial in any keyboard: ease of use. This Bluetooth Keyboard has been designed specifically to maximise your potential while you work. The incurved keys with scissor mechanisms and perfectly pitched distance between each key ensures that typing on this keyboard is a dream, enabling you to focus on what really matters - your work.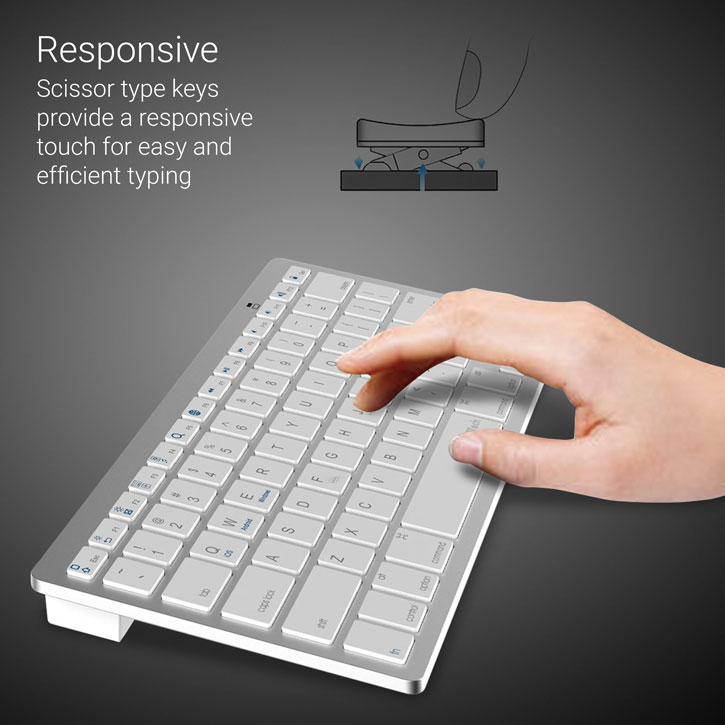 Simple Bluetooth connection
The keypad simply connects via Bluetooth to your device and is compatible with devices such as smartphones, tablets and PCs from iOS, Android and Windows platforms.
Slim and Lightweight design
The Bluetooth Keyboard form is also super slim and lightweight so you can take it with you anywhere. Perfect for use at home, at work or on the go, the Bluetooth Keyboard fits neatly in any bag and is light enough to carry around all day.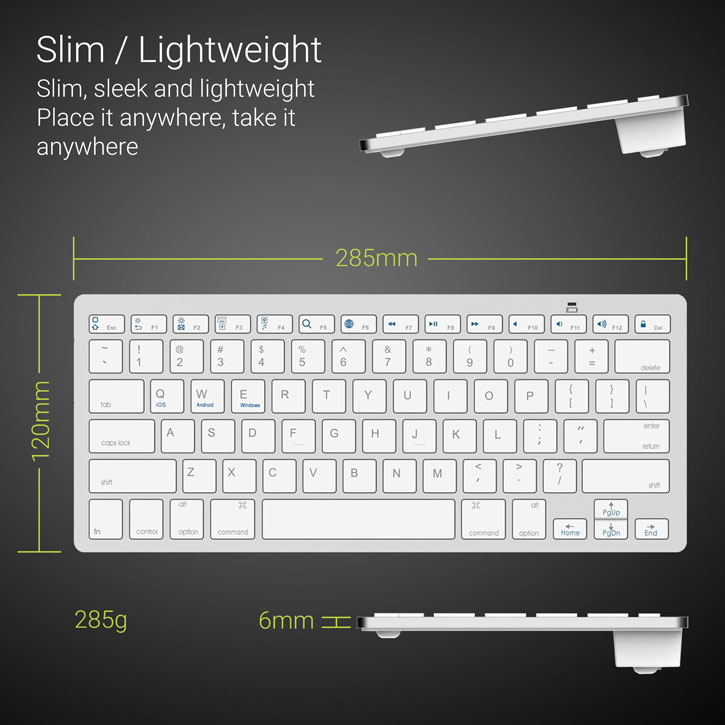 Full UK QWERTY sized keyboard
Don't struggle with accuracy and speed when typing on your small touchscreen devices, feel the benefits of a full sized UK QWERTY keypad, with all the features and functions of a normal keyboard.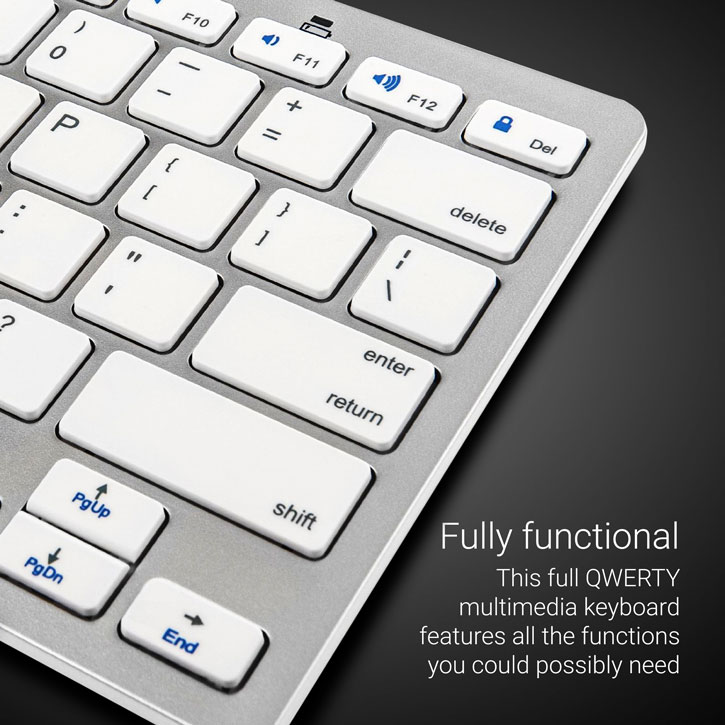 LED Status Lights, so you always know what's going on
With a red and green status light in the top right hand corner of the Bluetooth keyboard, you can be sure to know exactly when you need to change your batteries, to make sure it never runs out of juice and is always available when you need it most.
Technical Specifications
Dimensions: 285 x 120 x 21mm
Compatibility: Windows, iOS and Android
Range: 10m
Power: 2x AA battery